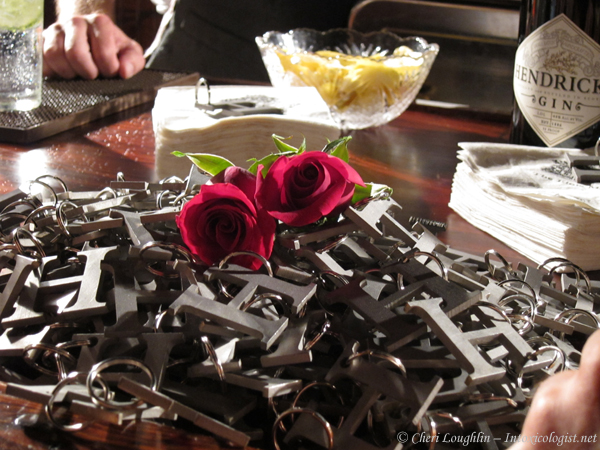 Rosie the Riveter is a cultural icon representing real life working women heroes, but without a singular Rosie. The iconic figure immortalizes the combined wartime experiences of women such as Rose Will Monroe, Rosalind P. Walter, Rosa Bonavita and Geraldine Hoff Doyle.
The proactive spirit of these women charmed the hearts of American women for decades. They were forerunners for women empowerment. While men took to war, these "Rosies" picked up a tool belt. They and other women performed some of the same jobs typically known as men's jobs. Norman Rockwell immortalized the Rosie the Riveter spirit with his popular illustrative works aptly named, Rosie the Riveter.
March 12 is the anniversary of Rose Will Monroe's birthday. In celebration of Rosie's fun loving, ambitious spirit LeNell Smothers created the Rosie the Riveter cocktail to personify the spirit of Rose Will Monroe.
Rosé the Riveter
1-1/2 ounces Hendrick's Gin
1/2 ounce PAMA
1/4 ounce Honey Syrup*
3 ounces Dry Rosé
Lime wheel for garnish
Combine liquids in cocktail shaker with ice. Shake to blend. Strain into tall glass filled with cracked ice. Garnish with lime wheel. Insert straw. *Honey Syrup: Combine equal parts honey and water. Do not heat. Allow to dissolve naturally.
Interesting to note: Though Rose Will Monroe is most closely associated with the Rosie the Riveter icon in some circles, the famous "We Can Do It" poster by J. Howard Miller uses the image of Geraldine Hoff Doyle as its model.
Find more Hendrick's Gin specific recipes or Gin cocktails in general by following the link. High resolution digital photo downloads are available for brand, cocktail menu creation use and individual
use at www.cheriloughlin.com within the Beverages category.
Find The Intoxicologist on Twitter, Facebook, StumbleUpon or Email: str8upcocktails@gmail.com – Copyright 2011 Cheri Loughlin – The Intoxicologist – All Rights Reserved – All opinions, reviews and spirits' coverage contained within are the personal opinion and decision of Cheri Loughlin, The Intoxicologist
Happy Birthday Rosie the Riveter