Ever order a cocktail and see the lazy shake? You know what I mean. Liquids and ice go into the shaker. Then the bartender barely lifts the shaker and one…two…tosses the shaker back and forth while looking distracted down the bar. Even worse, your cocktail gets delivered barely chilled, barely shaken in a warm glass. Hopefully there isn't smeared lipstick on it too. No, no. Not how it's done.
March 17 is St. Patrick's Day
If the cocktail calls for shaking. Do it like a pro! Chill that sucker!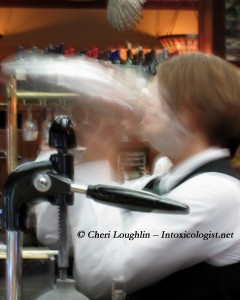 Irish Mint-Tini
1-1/2 ounce Irish Cream
1-1/2 ounce Light Rum
Sprinkle of Cinnamon
3 Mint Sprigs
Place Irish cream, rum, cinnamon and two mint sprigs in cocktail shaker with ice. Shake vigorously to blend and chill. Strain into chilled cocktail glass. Garnish with remaining mint sprig.
Find The Intoxicologist on Twitter, Facebook, StumbleUpon or Email: str8upcocktails@gmail.com – Copyright 2011 Cheri Loughlin – The Intoxicologist – All Rights Reserved – All opinions, reviews and spirits' coverage contained within are the personal opinion and decision of Cheri Loughlin, The Intoxicologist
Shake That Irish Mint-Tini