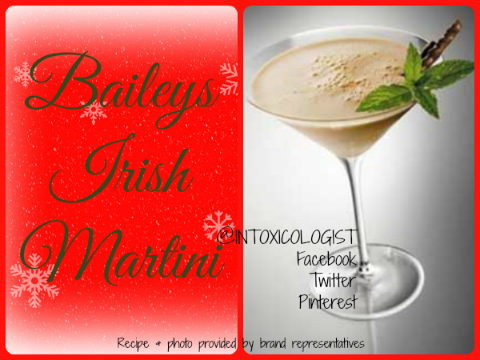 The Baileys Irish Martini is extra thick, rich and creamy. This is a decadent variation of traditional espresso martinis. Be aware the Baileys version is rather sweet. If you prefer just a touch of creamy sweetness, dial back the Irish Cream and add more espresso. Irish whiskey is a nice touch to espresso cocktails in my opinion. I love the hint of smoky warmth it brings to the flavor.
This is an easy to make three ingredient cocktail. The mint sprig adds wonderful aroma to the drink as it is sipped, but it isn't a deal breaker to leave it off if it isn't available. This drink could also be shaken and poured over ice if you prefer.
Baileys Irish Martini Recipe
Baileys Irish Martini
3 ounces Baileys Original Irish Cream Liqueur
1 ounce Irish Whiskey
1 ounce Espresso – cold
Mint Sprig
Combine liquids in a cocktail shaker with ice. Shake until well chilled. Strain into a chilled martini glass. Garnish with mint sprig.
Subscribe to the monthly Newsletter
Recipe and photo provided by brand representatives.
All content ©2014 Cheri Loughlin, The Intoxicologist. All Rights Reserved. Chat with Cheri @Intoxicologist on Twitter and facebook.com/Intoxicologist