Admittedly The Irish Hungarian received a little stir after the photo for thorough sipping. It's rather good. It's no wonder shots are a fave of Friday night revelers. My only wish is these little flavor packed goodies stayed on the tongue a little longer so they could really be savored.
March 17 is St. Patrick's Day
The Irish Hungarian – recipe adapted by Cheri Loughlin, The Intoxicologist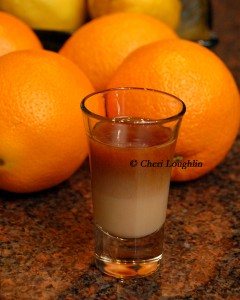 Inspired by Angela
2/3 ounce Irish Cream (chilled)
1/3 ounce Zwack (chilled)
Layer each in a shot glass in order given.  Shoot responsibly. Jager could be substituted for Zwack.
Flavor of the Irish Cream comes across first and then "Bam!" the spice of Zwack strikes with zing all over the taste buds. This would also be the perfect blend for weekend coffee.
All content ©2011 Cheri Loughlin, The Intoxicologist. All Rights Reserved. Chat with Cheri @Intoxicologist on Twitter and facebook.com/Intoxicologist or str8upcocktails@gmail.com