St. Patrick's Day reaches beyond green beer and Jello shots. There is even more to it than Irish Car Bombs and pints of Guinness backed by mandatory rounds of Irish Whiskey. There are bars offering Irish Whiskey tasting flights and those serving Irish themed cocktails for those interested in more than the stop and go shots. Venture beyond the ordinary while celebrating the holiday. Take the opportunity to sample something new.
March 17 is St. Patrick's Day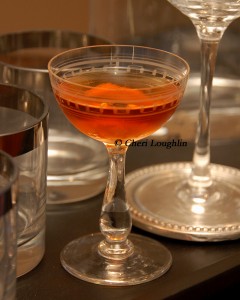 The Curtis Hotel
1 ounce Irish Whiskey
1 ounce Blended Scotch
1/2 ounce Dry Vermouth
1/2 ounce Sweet Vermouth
Dash Peychaud's Bitters
Orange Twist Garnish
Combine liquids in mixing glass with ice. Stir to chill. Strain into chilled cocktail glass. Garnish with orange twist.
Perfect vermouth combination arrives across the lips first and then suddenly the smokiness and warming of the whiskies shine through. Bitters add hint of spice in the tail end. Some dark spirited cocktails can land heavily on the palate, but this one glides easily across the tongue.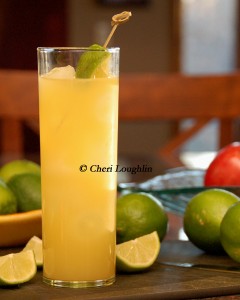 Dublin 8
2 ounces Irish Whiskey
2 ounces Orange Juice
2 ounces Ginger Ale
Quarter of 1 Fresh Lime – Squeezed
Place ice in highball glass. Add whiskey, orange juice and ginger ale. Squeeze quartered lime over top and drop into glass.
Ironically this picks up nutty, peanut butter notes. Orange citrus is there of course, too. Blends in right nicely.
Original drink created by Jeremy Sidener called for 3 ounces orange juice, 3 ounces ginger ale and lemon slice garnish. In my opinion this masked the Irish Whiskey beyond recognition. Taking the filler down just a notch allows the whiskey a little room to play without over doing it. Dublin 8 is a great thirst quencher.
Plan ahead. Designate sober drivers, arrange for a cab or take advantage of free rides many cities provide during holiday times. Just don't drive buzzed.
Twitter, Facebook, StumbleUpon – str8upcocktails @ gmail.com – ©2012 Cheri Loughlin-The Intoxicologist, All Rights Reserved. All opinions, reviews and spirits' coverage are the personal opinion and decision of Cheri Loughlin.
Sampling the Irish Spirit