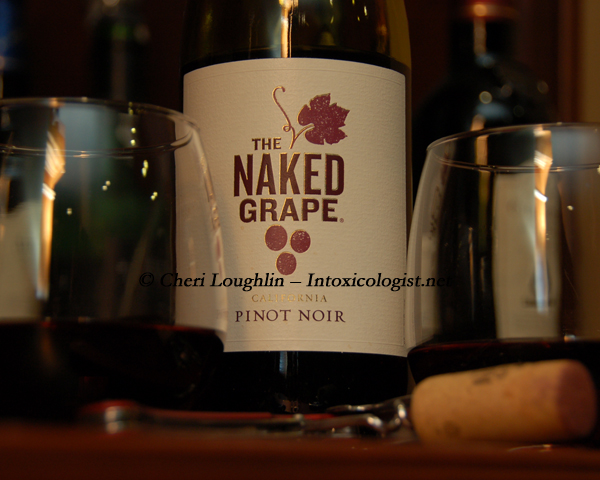 The Naked Grape focuses on simplicity. This is conveyed through basic, yet original labeling and the bare essence of the grape. The website is as no fuss, no muss as the wine they present. Straight forward, to the point.
The Naked Grape Pinot Noir – Official Tasting Notes
Medium-bodied, rich red wine with flavors of black cherry and blueberry. – website
Generally I find Pinot Noir rather thin, but this was not really as thin as I thought it would be. Not bad for wine in this price point range. Love the color. Pick up notes of raspberry and cherry, but miss the blueberry it specifies in its official tasting notes. Could definitely see this as a nice summery base for sangria spritzer. Of course with Naked Grape the spritzer needs to be basic to keep summer easy, breezy and flowing simply.
Naked Spritzer – created by Cheri Loughlin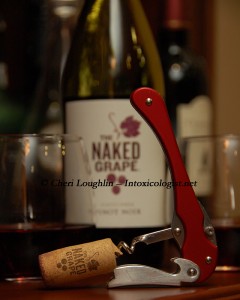 4 ounces Pinot Noir – chilled
1/3 cup Berries
Simple Syrup to Taste
Club Soda
Lightly muddle selection of berries (raspberries, blueberries and blackberries) in glass. Add chilled Pinot Noir and ice. Top with chilled club soda. Add simple syrup to taste if desired.
The Naked Grapewine sample for review courtesy representatives of The Naked Grape.
Cheri Loughlin is a leading cocktail and photography resource for beverage companies, event planners, businesses and individuals. High resolution cocktail and beverage stock photography images are available in downloadable digital format in the newly redesigned Stock Photography Gallery at www.cheriloughlin.com.
Twitter, Facebook, StumbleUpon – str8upcocktails @ gmail.com – ©2012 Cheri Loughlin-The Intoxicologist, All Rights Reserved. All opinions, reviews and spirits' coverage are the personal opinion and decision of Cheri Loughlin.