Ready to drink formulation cocktails from the bottle are perfect for furthering
experimentation.  Just because their main purpose is a quick and easy pour cocktail does not mean your imagination must stop there.  With a little creative
blending, you can turn the plain pre-mix into the mouthwatering delicious cocktail you would otherwise be missing.
Raspberry Mint Julep – created by Cheri Loughlin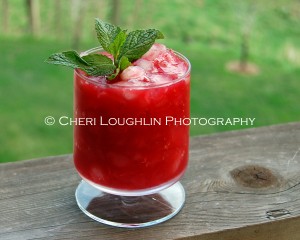 3 ounces Early Times Mint Julep RTD
1/3 cup frozen Raspberries
1/2 cup Ice
Crushed Ice
Fresh Mint Leaves Garnish
Place Early Times Mint Julep, raspberries and 1/2 cup ice in a blender.  Blend on
puree in the blender.  Pour over crushed ice in a Collins glass or decorative glass.  Garnish with fresh mint leaves.
The raspberry bite takes a tiny bit of sweetness out of the Early Times Mint Julep without robbing the cocktail of its traditional flavor and minty charm.  The minty fresh taste lingers well through the raspberry fruit which by the way gives this cocktail a pleasantly vivacious color.  Vibrant green mint leaves add the finishing touch for extra sparkle and contrast to liven up the concoction.
High resolution digital photo downloads are available for brand, cocktail menu creation use and individual use at www.cheriloughlin.com within the Beverages category.
Find The Intoxicologist on Twitter, Facebook, StumbleUpon or Email: str8upcocktails@gmail.com – Copyright 2011 Cheri Loughlin – The Intoxicologist – All Rights Reserved –  All opinions, reviews and spirits' coverage contained within are the personal opinion and decision of Cheri Loughlin, The Intoxicologist.
Adding Fresh Pizzazz to the RTD Mint Julep