When the work week begins caving in "mudslide" style, it's time to kick back with something so decadent troubles get caught in a landslide of bliss.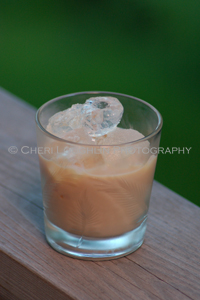 Mudslide – adapted by Cheri Loughlin
1 measure Double Espresso Vodka
1 measure Coffee Liqueur
1 measure Irish Cream
Build in a rocks glass over fresh ice. Stir.
Take the traditional Mudslide to the next level by adding 2 large scoops of ice creamand 1 cup of ice to the list of ingredients. Place in a blender. Blend until completely smooth. Pour into goblet. Enjoy!
Twitter, Facebook, StumbleUpon – str8upcocktails @ gmail.com – ©2011 Cheri Loughlin-The Intoxicologist, All Rights Reserved. All opinions, reviews and spirits' coverage are the personal opinion and decision of Cheri Loughlin.