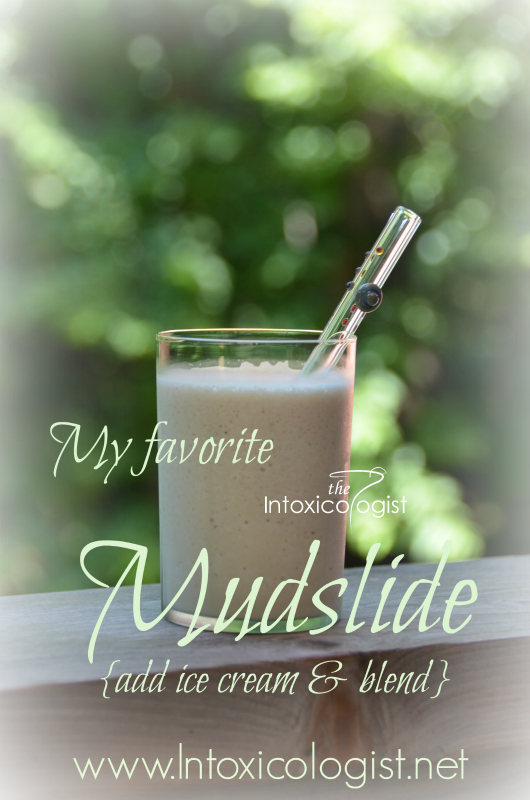 It's OK to play favorites sometimes.
Mudslides are usually served on the rocks or as shots. Coffee liqueur and Irish Cream make this drink pretty sweet for shooting and sipping. Sweet drinks are not my usual go-to recipes. But I do make an exception to Mudslides. My favorite Mudslide variation includes ice cream. Ice cream turns Happy Hour into a huge dessert fest.
Adding ice cream to the Mudslide isn't new. Chain restaurants have had them on their menus forever. My introduction to blended Mudslides was forever ago, too. Over 20 years ago. When I was much younger (barely of drinking age) my sister would buy pre-bottled Mudslide mix and add extra rum and ice cream to it. It was the bomb. Back then I had no clue about making cocktails or what was in a mudslide. I'm happy that's all changed. Making homemade ice cream Mudslides is way better than using a mix and still super easy.
Blended Mudslide Recipe
Blended Mudslide – adapted by Cheri Loughlin, The Intoxicologist
I ounce Silver Rum
1 ounce Irish Cream Liqueur (make your own Irish Cream Liqueur)
1 ounce Coffee Liqueur
1 large scoop Vanilla Ice Cream
Half & Half as needed
Place rum and liqueurs into a blender. Add ice cream on top. Blend. Add half and half as needed to thin out the mixture if it is too thick to blend. Serve in a hurricane glass or other decorative drinking glass. You might want a straw or spoon.
Don't stop at vanilla ice cream. Mint chocolate chip ice cream is another awesome addition for blended Mudslides.
Subscribe to the monthly Newsletter
All content ©2015 Cheri Loughlin, The Intoxicologist. All Rights Reserved. Chat with Cheri @Intoxicologist on Twitter and facebook.com/Intoxicologist