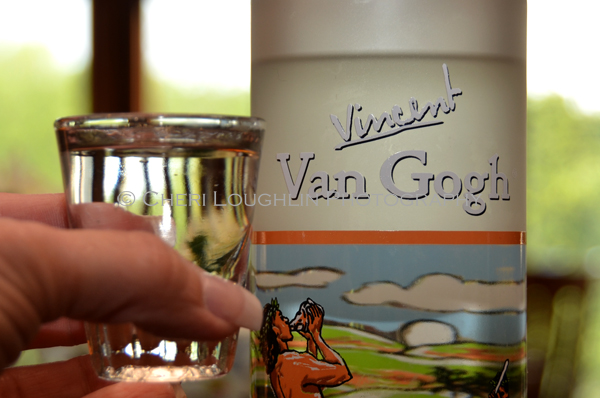 Van Gogh Coconut Vodka Tasting Notes
35% Alcohol. 70 Proof.
Aroma: Light coconut. Vague sweetness. Heat this in summer sun and definite sun tan lotion factor rises to the nose.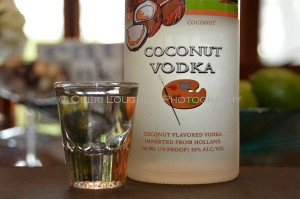 Taste: Extreme sweetness. Burn when sampled neat. Toasted coconut. Butterscotch. Oatmeal. Hint of toffee mixed with cinnamon, but extremely faint. Much depth to this. Digging the toasted aspect. Reminds me of shredded toasted coconut and perfectly roasted marshmallows combined. Definitely no suntan lotion here!
Coconut vodka and rum are extremely popular for carefree cocktails and summer living. Ilina Ewen of Dirt & Noise recommended combining the following ingredients for a most delicious sip. Though Ilina and I didn't discuss exact measurements and style of drink, I took a guess and the completed cocktail turned out rather lovely. The cocktail turns out quite sweet, but most certainly delicious. Give it a whirl on the rocks if you prefer.
Coconut Sunburst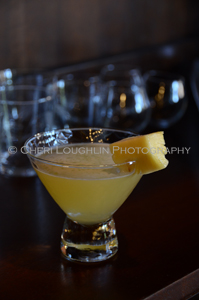 1-1/2 measure Van Gogh Coconut Vodka
1/2 measure Banana Liqueur
1/4 measure O3 Premium Orange Liqueur
1-1/2 measure Pineapple Juice
Pineapple Wedge Garnish
Combine liquids in cocktail shaker with ice. Shake to blend and chill. Strain into chilled cocktail glass. Garnish with pineapple wedge.
Cheri Loughlin is a leading cocktail and photography resource for beverage companies, event planners, businesses and individuals. High resolution cocktail and beverage stock photography images are available in downloadable digital format in the newly redesigned Stock Photography Gallery at www.cheriloughlin.com.
Twitter, Facebook, StumbleUpon – str8upcocktails @ gmail.com – ©2011 Cheri Loughlin-The Intoxicologist, All Rights Reserved. All opinions, reviews and spirits' coverage are the personal opinion and decision of Cheri Loughlin.
Review: Van Gogh Coconut Vodka