A friend of mine made a trip to Hawaii a month or so ago and brought back a bottle of Mango Rico Liqueur as a gift for my birthday. I had been searching for real mango liqueur locally and online, but had been coming up empty handed. The Mango Rico was not only a perfect gift, it is completely wonderful!  It is so light and delicate; it barely breezes by the taste buds. Although this is a liqueur, the sweetness is extremely low key. I have had a difficult time playing with it in cocktails due to the delicate flavor. The mango seems to disappear in every cocktail no matter the ratio. 
Then I began thinking of Van Gogh Vodka. Van Gogh makes a rich line of super premium flavored vodkas that are extra special.  I have not tried every flavor Van Gogh creates, but the ones I have are spectacular.
I picked up a bottle of Van Gogh Pineapple Vodka not too long ago. My taste buds cannot handle too much bottled pineapple juice due to the acidity. However, there are an astounding number of cocktails with pineapple in them. I am always on the lookout for something to tweak a cocktail or take the place of something else. The Van Gogh Pineapple Vodka has been just the pineapple flavor I have needed in place of pineapple juice on occasion. It is subtle and light, yet the flavor is carried throughout this super premium vodka. The Van Gogh Pineapple Vodka is definitely one anyone could sip neat, straight up or on the rocks, but my delight is in dreaming up new cocktails. This is exactly what I did with the Mango Rico Liqueur and Van Gogh Pineapple Vodka.
Man-Gogh Rico – created by Cheri Loughlin, The Intoxicologist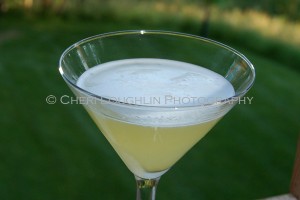 1/2 ounce Mango Rico Liqueur
6 One Inch Chunks Fresh Pineapple
2 ounces Pineapple Vodka
Garnish:  Speared piece of dried mango or small cubes of alternating pineapple and mango on a skewer
Muddle six pieces of fresh pineapple and Mango Rico Liqueur in the bottom of cocktail shaker.  Add Pineapple Vodka and cracked ice. Shake until cold and frothy. Strain into a well chilled martini glass. Garnish with desired garnish. 
Slippery Banana Pineapple Martini
1-1/2 ounce Van Gogh Banana Vodka
3/4 ounce Van Gogh Pineapple Vodka
1/4 ounce Premium Orange Liqueur
2 ounce Orange Juice
Combine liquids in cocktail shaker with ice. Shake to blend and chill. Strain into chilled martini glass.
The QueenTini
2 ounces Van Gogh Pineapple Vodka
2 ounces Lemonade
Splash Grenadine
Combine liquids in cocktail shaker with ice. Shake to blend and chill. Strain into chilled martini glass.
Twitter, Facebook, StumbleUpon – str8upcocktails @ gmail.com – ©2013 Cheri Loughlin-The Intoxicologist, All Rights Reserved.
Van Gogh Pineapple Vodka & Mango Rico: Perfect on the Palate