The latest Absolut 'Cities' launch brings new flair to the Absolut bottle style with depiction of the omnipresent Brooklyn Stoop.  The bottle, designed by Spike Lee, embraces the foundation of the Brooklyn community with vibrant color.  Look closely to find clever mentions of Brooklyn within the stoop itself.  But most notable, the Lars Olsson Smith seal has been altered for the first time ever.  This limited edition Cities offering seal portrays Lars wearing a baseball cap and glasses reminiscent of Spike Lee.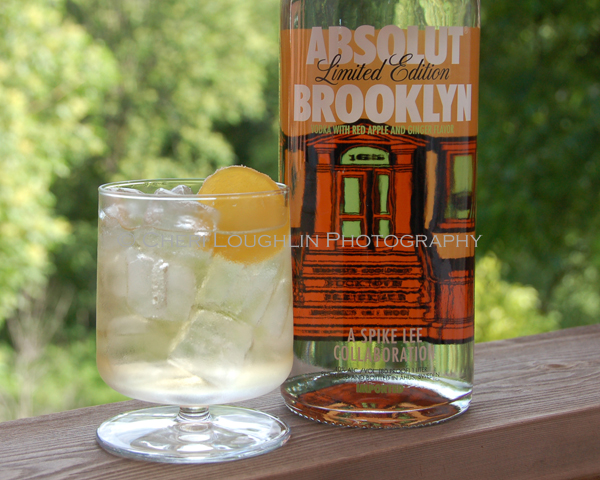 Absolut Brooklyn Tasting
Aroma: Fresh cut apples; juicy. No alcohol burn. Barely there hint of spice. Simple lusciousness indicating sweetness to the tiniest degree.
Taste: The ginger lies in wait beneath the aroma showing through as primary, glowing forth with subtle spicy charm.  Apple softens from the aroma of red juicy to fresh baked with hints of peel bringing a bit of depth to the fruit flavor.  Lots of spicy play with overlay of cinnamon and sprinkling of pie crust.
This takes me a little off guard, a bit surprising.  Not entirely an apple fan when it comes to cocktail and juice flavorings, I am quite taken by the appeal of this offering.  Though it seems a bit off season as to its spring to summer delivery since the spirit comes across more warming, Absolut Brooklyn delivers well on the palate.  This will definitely make bobbing for apples quite the treat at the next Halloween party when the season rolls around.
Spiked Core – created by Cheri Loughlin
2 measures Absolut Brooklyn
1/2 measure St-Germain Liqueur
1/4 measure Benedictine
1 measure White Cranberry Juice
1 measure Ginger Ale
Crystallized Ginger Round Garnish
Fill highball glass with ice.  Add liquids in order given.  Stir.  Garnish with crystallized ginger round inserted directly in drink.
This drink builds upon the core flavors of apple and spice by gently enhancing the fruited sweetness of apple with St-Germain and building upon the spicy overlay with Benedictine.  Choose to stop building the drink with the first three ingredients and a lovely warming cocktail emerges for fall to winter sipping.  Shake it over ice and strain into a martini glass.  Continue with all the ingredients over ice for a light and delicious apple inspired drink for summertime sipping.
This newest 'Cities' inspired offering honors and supports the Brooklyn community with Absolut Vodka donating $50,000 from profits from the sale of Absolut Brooklyn to Habitat for Humanity New York City. 
Absolut Brooklyn sample for review courtesy representatives of the brand.
Cheri Loughlin is a leading cocktail and photography resource for beverage companies, event planners, businesses and individuals. High resolution cocktail and beverage stock photography images are available in downloadable digital format in the newly redesigned Stock Photography Gallery at www.cheriloughlin.com.
Twitter, Facebook, StumbleUpon – str8upcocktails @ gmail.com – ©2011 Cheri Loughlin-The Intoxicologist, All Rights Reserved. All opinions, reviews and spirits' coverage are the personal opinion and decision of Cheri Loughlin.