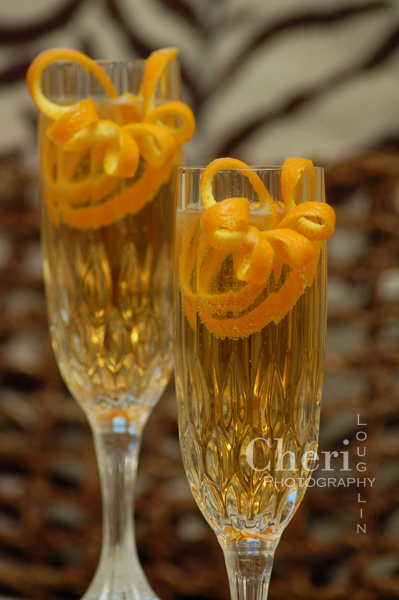 A lovely way to celebrate the success of one year and beginning of another is with the Triumph champagne cocktail. This champagne cocktail utilizes the flavors of Hiram Walker White Peach Schnapps and Armagnac for jubilant completion. Don't settle for just one. Make the evening exceptional by doubling the recipe for an occasion meant for two.
Triumph Champagne Cocktail Recipe
Triumph – recipe by Cheri Loughlin, The Intoxicologist
1/2 ounce Hiram Walker White Peach Schnapps
3/4 ounce Castarede Armagnac VSOP
3 ounces Brut Champagne
Long Orange Zest Twist
Combine Hiram Walker Peach Schnapps and Castarede Armagnac VSOP together in a cocktail shaker. Add ice. Shake to chill. Strain into champagne flute. Zest an orange peel over the mixture to capture the essential oils. Drop garnish into champagne flute. Top with brut champagne.
The Triumph champagne cocktail recipe was commissioned by representatives of Pernod Ricard USA as part of the Corporate Mixology program offered by Cheri Loughlin, The Intoxicologist. Find more recipes created by Cheri Loughlin using Pernod Ricard Brands on this site. Visit the Hiram Walker website and follow Hiram Walker on Facebook.
Subscribe to the monthly Newsletter
All content ©2014 Cheri Loughlin, The Intoxicologist. All Rights Reserved. Chat with Cheri @Intoxicologist on Twitter and facebook.com/Intoxicologist