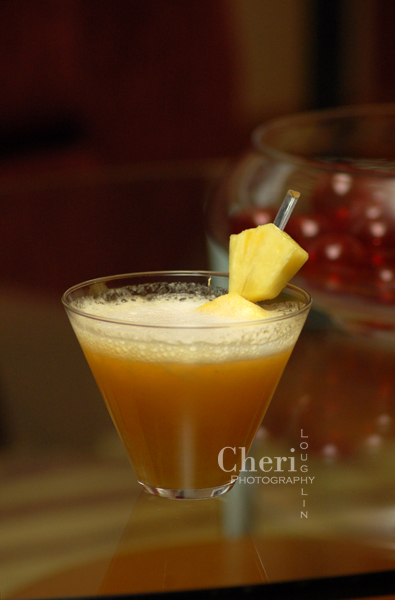 Celebrate the start of spring, full blown summer or the last vacation days of fall. Glitter Island's champagne topped blender drink brings a sweet chill to the glass with bubbly that to tickle the nose. This festive drink serves two. Grab some glasses, share the sunshine and raise a toast to warm days, bright smiles and all that glitters.
Glitter Island Blender Drink Recipe
Glitter Island – recipe by Cheri Loughlin, The Intoxicologist
Serves 2
1 cup / 8 ounces Frozen Sliced Peaches – unsweetened
2 ounces Malibu Island Melon Flavor Caribbean Rum
2 ounces Hiram Walker Peach Flavored Schnapps
2-1/2 ounces Pineapple Juice
1-1/2 ounces Apricot Juice
4 ounces Brut Champagne
Skewered Pineapple Garnish
Place frozen peaches, Malibu rum, peach schnapps, pineapple and apricot juice in a blender. Blend until mixture is completely smooth. No ice necessary. Divide between two decorative glasses. Top each glass with two ounces of brut champagne. Garnish with pineapple.
The Glitter Island blender drink recipe was commissioned by representatives of Pernod Ricard USA as part of the Corporate Mixology program offered by Cheri Loughlin, The Intoxicologist. Find more recipes created by Cheri Loughlin using Pernod Ricard Brands on this site. Visit Malibu Rum Drinks website. Visit the Hiram Walker website and follow Hiram Walker on Facebook.
All content ©2013 Cheri Loughlin, The Intoxicologist. All Rights Reserved. Chat with Cheri @Intoxicologist on Twitter and facebook.com/Intoxicologist or str8upcocktails@gmail.com