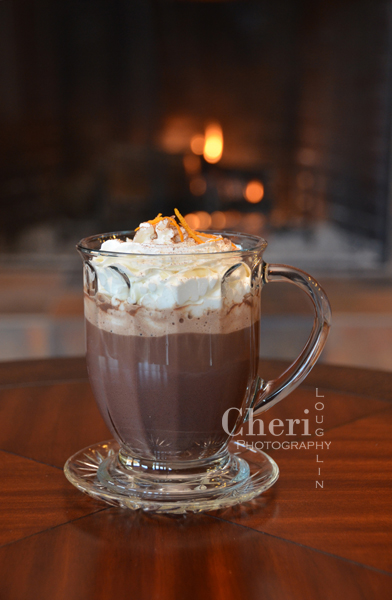 Cocoa warms, sweetens and brings back fond memories of childhood. Add a splash of Camarena Tequila and chocolaty spirited fun begins. Cocoa Camarena's flavor lingers long on the palate with spectacular layering of sweet spices and tinge of orange. Spectacular as anytime winter warmer, but an extra special treat for holidays or tailgate parties.
Cocoa Camarena Hot Chocolate Recipe
Cocoa Camarena – recipe by Cheri Loughlin, The Intoxicologist
1-1/4 ounce Camarena Silver Tequila
1 tablespoon Orange Zest
1 Cinnamon Stick
1 teaspoon Whole Cloves
1 teaspoon Whole Allspice
8 ounces Milk
4 tablespoons Sweet Ground Chocolate for Cocoa*
Whipped Cream, Allspice & Orange Zest Garnish
Place orange zest, cinnamon stick, whole cloves and whole allspice in saucepan with milk and chocolate cocoa. Stir continuously while heating mixture on low. Heat until chocolate has dissolved and mixture is steaming. Remove from heat. Add tequila. Stir. Strain into heat proof mug. Top with whipped cream. Dust with allspice powder and pinch of orange zest.
*Hot Cocoa Mix can be used as alternative.
The Cocoa Camarena hot chocolate recipe was commissioned by representatives of Camarena Tequila as part of the Corporate Mixology program offered by Cheri Loughlin, The Intoxicologist. Find more recipes created by Cheri Loughlin for Camarena Tequila on this site and at tequilacamarena.com and by following Camarena Tequila on Facebook and Twitter.
All content ©2013 Cheri Loughlin, The Intoxicologist. All Rights Reserved. Chat with Cheri @Intoxicologist on Twitter and facebook.com/Intoxicologist or str8upcocktails@gmail.com