Fresh berries and sugar free syrups open the playing field up to lower calorie and lower carbohydrate drink recipe options. Muddling fruit just might burn a few extra calories with the little bit of elbow action, too!  Keep this whiskey cocktail lower calorie and delicious easily with minimal effort and fabulous results.
Silhouette Low Calorie Cocktail Recipe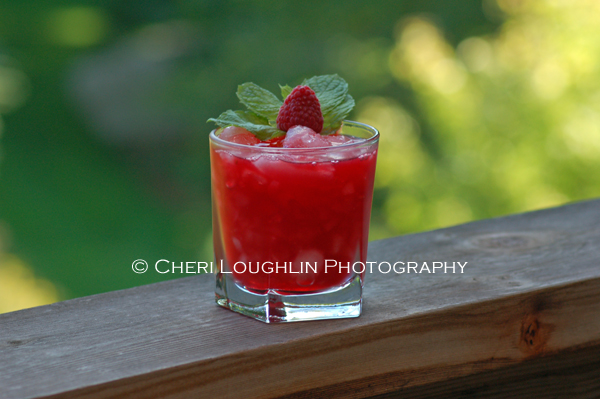 Silhouette – adapted recipe by Cheri Loughlin, The Intoxicologist
Origination: Signature cocktail of Eclipse Bars – England
5 Fresh Raspberries
1/2 ounce Raspberry Sugar Free Syrup
1 ounce Whiskey
1 ounce Light Cranberry Juice
1/4 ounce Fresh Lime Juice
Mint Leaves & Raspberry Garnish
Muddle raspberries and syrup in mixing glass. Add remaining ingredients with ice. Shake to blend and chill. Strain into rocks glass over crushed ice. Garnish with bruised mint leaves and raspberry.
Total approximated calories: 86 calories
Even though this has slight sugar free taste buried within, the fresh fruit flavor really kicks in and creates quite a tasty treat. Fabulous flavor as is, but since it sits at 86 calories it might be worth the extra 34.5 calories to bump up the whiskey a notch (1-1/2 ounce rather than 1 ounce), making the total calorie count 120.5.
All content ©2012 Cheri Loughlin, The Intoxicologist. All Rights Reserved. Chat with Cheri @Intoxicologist on Twitter and facebook.com/Intoxicologist or str8upcocktails@gmail.com