When a white winter season won't come to you, bring the winter wonderland to your cup.
Snowcap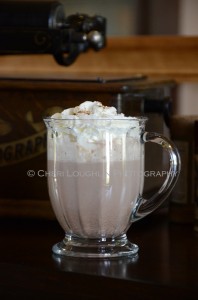 1 ounce Kahlua Mocha
1 ounce Absolut Vanilia Flavored Vodka
6 ounces Hot Chocolate
Whipped Cream & Chocolate Sprinkles Garnish
Place Kahlua Mocha and vodka in bottom of heat proof mug. Fill with hot chocolate. Stir. Top with whipped cream. Sprinkle with chocolate.
February 27 is National Kahlua Day. Stock up on supplies so you can celebrate!
Twitter, Facebook, StumbleUpon – str8upcocktails @ gmail.com – ©2013 Cheri Loughlin-The Intoxicologist, All Rights Reserved.