Spice up your morning coffee routine with flavor from the baker's pantry. It's easy to add a few spices to the coffee filter basket for infusion flavor with without the fuss.
Spiced Blonde Café – created by Cheri Loughlin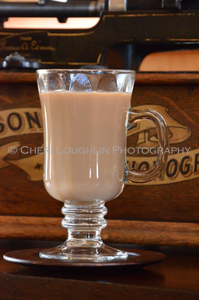 1 tablespoon Cinnamon
1/4 teaspoon Ground Cardamom
1/4 teaspoon Sugar
Fresh Ground Coffee Beans
Place cinnamon, ground cardamom and coffee beans in coffee filter. Brew full pot of coffee as coffee maker directs.
1-1/2 measure Dark Rum
1-1/2 measure Half & Half
Honey – to taste
Whipped Cream & Cinnamon Garnish
Place rum and half & half in heat resistant mug. Top with fresh brewed spiced coffee. Add honey to taste. Top with whipped cream and cinnamon if desired. Variations: Use Irish Cream or Cinnamon Bun coffee creamer in place of Half & Half and honey. Use Tequila in place of Rum if desired.
Twitter, Facebook, StumbleUpon – str8upcocktails @ gmail.com – ©2012 Cheri Loughlin-The Intoxicologist, All Rights Reserved. All opinions, reviews and spirits' coverage are the personal opinion and decision of Cheri Loughlin.