Cinco de Mayo lands on a Saturday in 2012 leaving an entire weekend for parties and relaxed merriment. It's a sure bet blenders will whirl in excited celebration with flavorful margaritas. Barefoot Wine & Bubbly reinvents the traditional fruited margarita with a delicious White Zinfandel twist.
Barefoot MargariTOE Recipe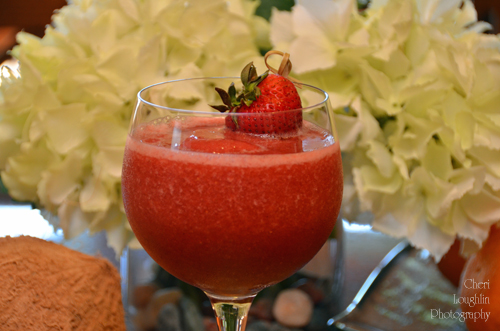 Barefoot MargariTOE – recipe by Cheri Loughlin, The Intoxicologist
3 ounces Barefoot White Zinfandel – chilled
2 ounces Pineapple Juice – chilled
1-1/2 cup Frozen Strawberries
1 ounce Camarena Tequila
Fresh Strawberry Garnish
Place all ingredients except garnish in blender with ice. Blend until completely smooth. Pour into chilled margarita glass or decorative cocktail glass. Garnish with fresh strawberry.
The Barefoot MargariTOE margarita recipe variation was commissioned by Barefoot Wine & Bubbly as part of the Corporate Mixology program offered by Cheri Loughlin, The Intoxicologist. Find more recipes created by Cheri Loughlin for Barefoot Wine & Bubbly on this site and at BarefootWine.com and by following Barefoot Wine on Facebook.
All content ©2012 Cheri Loughlin, The Intoxicologist. All Rights Reserved. Chat with Cheri @Intoxicologist on Twitter and facebook.com/Intoxicologist or str8upcocktails@gmail.com