The only thing better than choosing between Sangria and a Margarita is enjoying them both by having a Frozen Sangria Margarita. The Frozen Sangria Margarita is like having two cocktails swirled together in one glass for refreshing enjoyment! Now that's Frozen Sangria Margarita heaven!
Sangria swirled throughout the base margarita makes a delicious festive treat. Subtle wine notes weave sweetness in with citrus tart of the traditional margarita. This wonderful frozen treat is easily accomplished with simple blender and freezer method. There is no need for slushy machines at home. An added bonus… the base recipe without the sangria makes a great variation on the traditional Margarita. It's like two cocktails in one! Now that's something to celebrate!
Frozen Sangria Margarita Recipe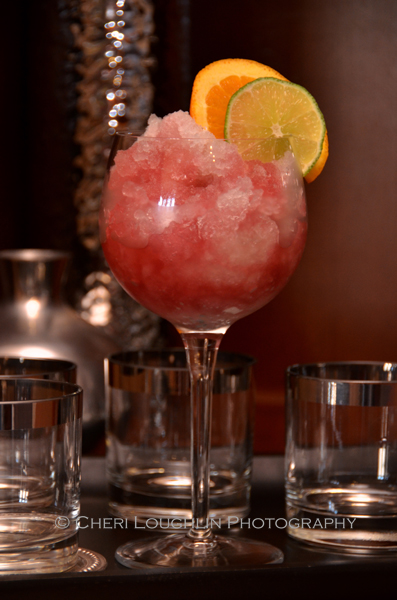 Frozen Sangria Margarita – recipe by Cheri Loughlin, The Intoxicologist
2 ounces Camarena Silver Tequila
1 ounce Premium Orange Liqueur
3/4 ounce Fresh Lime Juice
3/4 ounce Fresh Lemon Juice
3/4 ounce Spiced Orange Syrup
1-1/2 cup Crushed Ice
2 ounce Bottled Sangria – chilled
Orange & Lime Wedge Garnish
Place all ingredients except Sangria in blender. Blend until completely smooth. Place in freezer for 2 to 3 hours or overnight to firm. Shake container occasionally so mixture does not separate ingredients while freezing. When ready to serve: In wine goblet or decorative glass, alternately layer frozen tequila mixture with 1/4 to 1/2 measures of chilled Sangria. Garnish with orange and lime wedge.
Spiced Orange Syrup Recipe
Spiced Orange Syrup – recipe by Cheri Loughlin, The Intoxicologist
Zest of 1 Orange
10 to 12 Whole Cloves
1 heaping tablespoon Whole Allspice
3/4 cup water
1-1/2 cup Organic Cane Sugar
Place all ingredients in saucepan over medium heat. Heat until sugar is completely dissolved (approximately 5 minutes). Strain. Discard zest and spices. Refrigerate syrup.
The Frozen Sangria Margarita recipe was commissioned by representatives of Camarena Tequila as part of the Corporate Mixology program offered by Cheri Loughlin, The Intoxicologist. Find more recipes created by Cheri Loughlin for Camarena Tequila on this site and at tequilacamarena.com and by following Camarena Tequila on Facebook and Twitter.
All content ©2013 Cheri Loughlin, The Intoxicologist. All Rights Reserved. Chat with Cheri @Intoxicologist on Twitter and facebook.com/Intoxicologist or str8upcocktails@gmail.com