Gingerly by the Nape is the Mocktail version of the classic Horse's Neck drink recipe classic. Keep in mind classic bitters contains a fraction of alcohol, but two dashes in this size cocktail will not retain a viable affect for those wishing to maintain designated driver status.  For those staying clear of alcohol completely, leave out the bitters completely. 
Gingerly by the Nape – created by Cheri Loughlin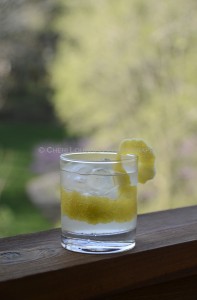 4 to 5 ounces Ginger Ale
1/2 Fresh Lime – squeezed
2 dashes Classic Bitters
Lemon Peel Garnish
Carefully spiral a lemon inside a tall glass with ice.  Build cocktail over ice.  Serve. 
Twitter, Facebook, StumbleUpon – str8upcocktails @ gmail.com – ©2012 Cheri Loughlin-The Intoxicologist, All Rights Reserved.