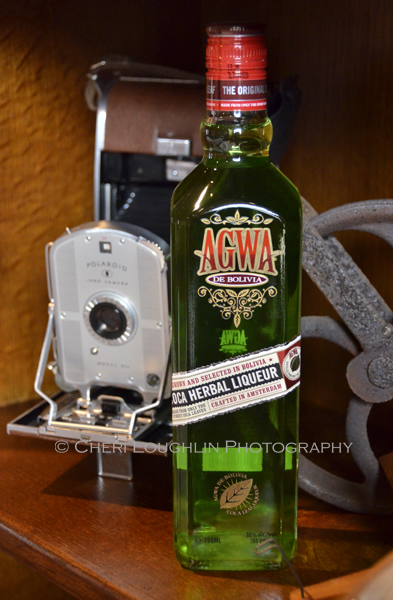 AGWA de Bolivia is the AUTHENTIC Coca Leaf Liqueur. "Handpicked in Bolivia, handcrafted in Amsterdam" – brand fact sheet
AGWA de Bolivia is an herbal liqueur crafted from coca leaf crops harvested by Bolivian coca farmers. Selected coca leaves are flown to Amsterdam where they are steam distilled. The precise and expensive method of distillation used was pioneered by the perfume industry to extract aromas from delicate leaves and flowers.
Once the pure coca distillate is obtained from the coca leaves, the negative narcotic compounds are removed. The distillate is then blended with 36 herbs including Guarana, Ginseng and Yerba Mate.
60 Proof / 30 % alcohol
Suggested Retail Price: $31.99 for 750/ml bottle
Available in most major U.S. metros
I find it interesting that the attention getter for this liqueur is its inclusion of coca leaf.
Coca leaf is most commonly known due to its alkaloids; primarily cocaine, but there are numerous other alkaloids within the leaf. Some of the alkaloids within the leaf are used for medicinal purposes to suppress hunger, ease altitude sickness, act as a mild stimulant, etc.
Coca leaf has a centuries old history in the Andes Region. It is brewed in teas and chewed. When chewed in its raw form, the controversial cocaine stimulant in the leaf gives the chewer a boost of energy similar to a cup of coffee. Ironically, the stimulant in coffee, caffeine, is also potent in concentrated form. (source: The Condemned Coca Leaf)
Fresh coca leaves were once used in Coca-Cola. In 1904, Coca-Cola began using "spent" coca leaves in the production of their soft drink. "Spent" leaves are those that remain after the cocaine-extraction process. Coca-Cola stills use a cocaine-free coca leaf extract prepared in the United States. Coca leaf is also said to be found in Red Bull Cola, launched in 2008. (source: Industrial Applications)
Though I wouldn't begin to know how much Guarana, Ginseng and Yerba Mate are in this particular liqueur, I think the caffeine inclusion in this particular spirit should be noted. The CDC has a fact sheet outlining certain risks of mixing alcohol with energy drinks or consuming alcoholic drinks high in caffeine.
The Guarana seed contains approximately twice the concentration of caffeine in a coffee bean. Ginseng is traditionally used in part as a stimulant and is included in many energy drinks. The leaves of the Yerba Mate plant contain three compounds, the main one being caffeine. It's possible that Yerba Mate's chemical compound is much different than other plants containing caffeine in that "the three xanthines present in mate have been shown to have a relaxing effect on smooth muscle tissue, and a stimulating effect on myocardial (heart) tissue." (source: Chemical composition and properties)
Does a spirit made from coca leaves intrigue me? Sure. Does one filled with caffeine and stimulants make me wary? Indeed.
Sample courtesy representatives of AGWA de Bolivia Coco Leaf Liqueur, BABCO, International
Twitter, Facebook, StumbleUpon – str8upcocktails @ gmail.com – ©2013 Cheri Loughlin-The Intoxicologist, All Rights Reserved.
AGWA de Bolivia Coca Leaf Liqueur