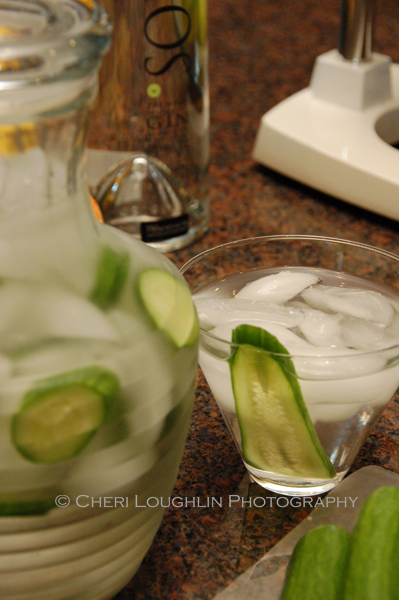 A little H20 thirst quencher for the body keeps the heat at bay and you in the party game longer when summer heat is on. Take a hint from savvy restaurants which veer from the ordinary and serve refreshing chilled water with cucumber rather than ordinary lemon wedges or twists. Hendrick's Gin hasn't cornered the market where cucumber flavor is concerned.
Cucumber isn't the only way to go with flavored water. Think various herbs like rosemary and thyme or grapefruit slices and kiwi. However you slice it or dunk it, get creative and stay hydrated while enjoying the sunshine.
Cucumber Water
Pitcher
Distilled Water
Ice
Cucumber Slices
Layer ice and cucumber slices in pitcher. Fill with water. To serve: Place thin slice cucumber along inside of glass. Fill with ice. Top with cucumber water. Enjoy.
Add your comment: What do you add to your water for more visual and flavor appeal?

Twitter, Facebook, StumbleUpon – str8upcocktails @ gmail.com – ©2013 Cheri Loughlin-The Intoxicologist, All Rights Reserved.