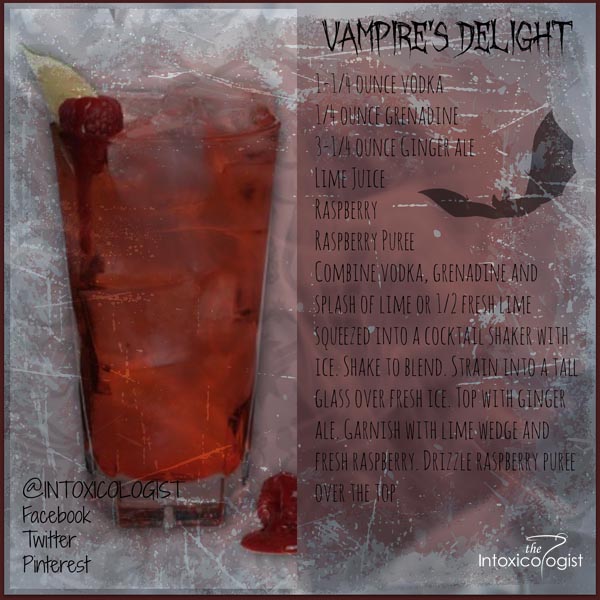 Halloween cocktails take on eerie effect with bubbling cauldrons filled with dry ice, floating eyeballs and martini glasses glowing with concoctions of ghastly greens and appalling blood red. Sometimes the flavor combinations necessary to create such frightening presentations are as horrific to swallow as they are to look at. But that isn't necessary.
Vampire's Delight is simple, uncomplicated and delicious. Raspberry and raspberry puree are as ghoulish as this drink gets. It stays within the realm of sophisticated style and keeps your Halloween party simply tastefully trendy.
Vampire's Delight
Vampire's Delight
1-1/4 ounce Smirnoff Vodka
1/4 ounce Grenadine
3-1/4 ounce Ginger Ale
Lime Juice
Raspberry
Raspberry Puree*
Combine vodka, grenadine and splash of lime or 1/2 fresh lime squeezed into a cocktail shaker with ice. Shake to blend. Strain into a tall glass over fresh ice. Top with ginger ale. Garnish with lime wedge and fresh raspberry. Drizzle raspberry puree over the top.
*Purchase raspberry puree or make your own by muddling a few raspberries with simple syrup.
Recipe and drink photo provided by representatives of Smirnoff. Recipe card created by Cheri Loughlin
Subscribe to the monthly Newsletter for bonus recipes and free downloads.
All content ©2014 Cheri Loughlin, The Intoxicologist. All Rights Reserved. Chat with Cheri @Intoxicologist on Twitter and facebook.com/Intoxicologist