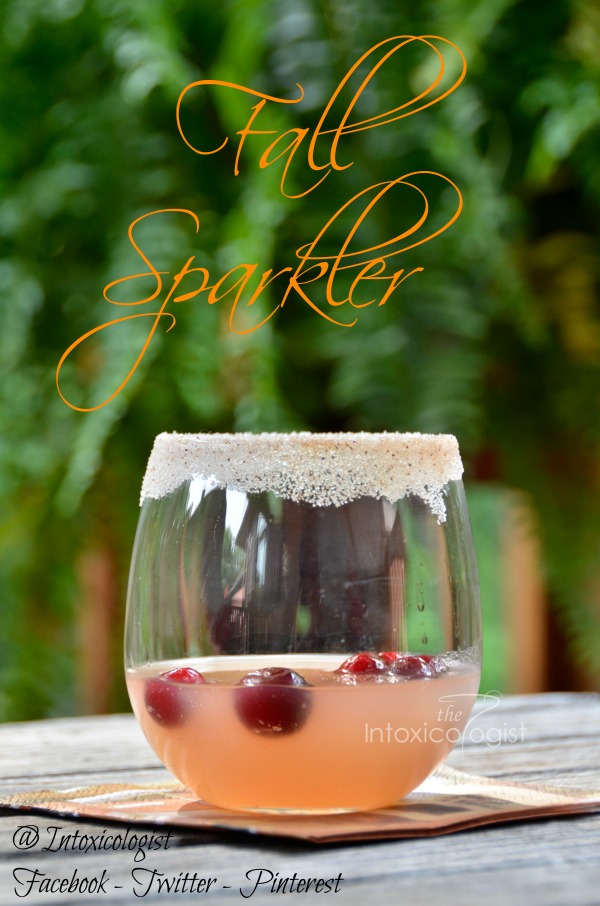 Sugar frosted cocktail glasses are about as close to real fall and winter frost as I care to be. But fall and winter do have their perks.
Cozy evenings spent nuzzled up by a warm fire. What's not to love?!
Whether you're a college or pro football fan, you know football season is a BIG deal. Put your aprons on and fire up the grill. This is an all-inclusive, non-stop, love the friends your with, tailgate party 'til you drop, may the best team survive kind of season.
And talk about the holidays! They start out scary, chime in with merry and the chocolate keeps flowing long after the ball drops. It's all these fun activities that keep my mind away from the chilly cold and into the spirit of the full holiday season.
Fall Sparkler Cocktail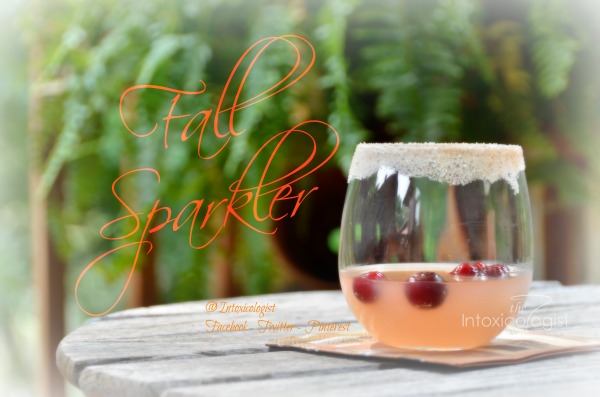 Kick off the next phase of the holiday season with a Thanksgiving inspired cocktail with sugar frosted rim. The Fall Sparkler cocktail could be placed in a traditional champagne flute or coupe if you choose. It's lovely with its pale pink color and seasonal flavors. The sugar, cinnamon and nutmeg rim with floated cranberries give this cocktail festive flavor and beautiful visual appeal.
Fall Sparkler – recipe by Cheri Loughlin
3 ounces Barefoot Extra Dry Bubbly
1-1/2 ounce Pear Juice
3/4 ounce Apple Juice
1/2 ounce Cranberry Juice
Sugar, Cinnamon, Nutmeg – Sugared Rim
Cranberries Garnish
Combine equal parts sugar, cinnamon and nutmeg on a plate. Rim chilled wine glass with lemon. Dip rim into sugar mixture. Drop in a few fresh or frozen cranberries. Set aside. Combine juices in cocktail shaker with ice. Strain into prepared wine glass. Top with chilled Barefoot Extra Dry Bubbly.
Subscribe to the monthly Newsletter
The Fall Sparkler cocktail was commissioned by Barefoot Wine & Bubbly as part of the Corporate Mixology program offered by Cheri Loughlin, The Intoxicologist. Find more recipes created by Cheri Loughlin for Barefoot Wine & Bubbly on this site and at BarefootWine.com and by following Barefoot Wine on Facebook.
All content ©2014 Cheri Loughlin, The Intoxicologist. All Rights Reserved. Chat with Cheri @Intoxicologist on Twitter and facebook.com/Intoxicologist