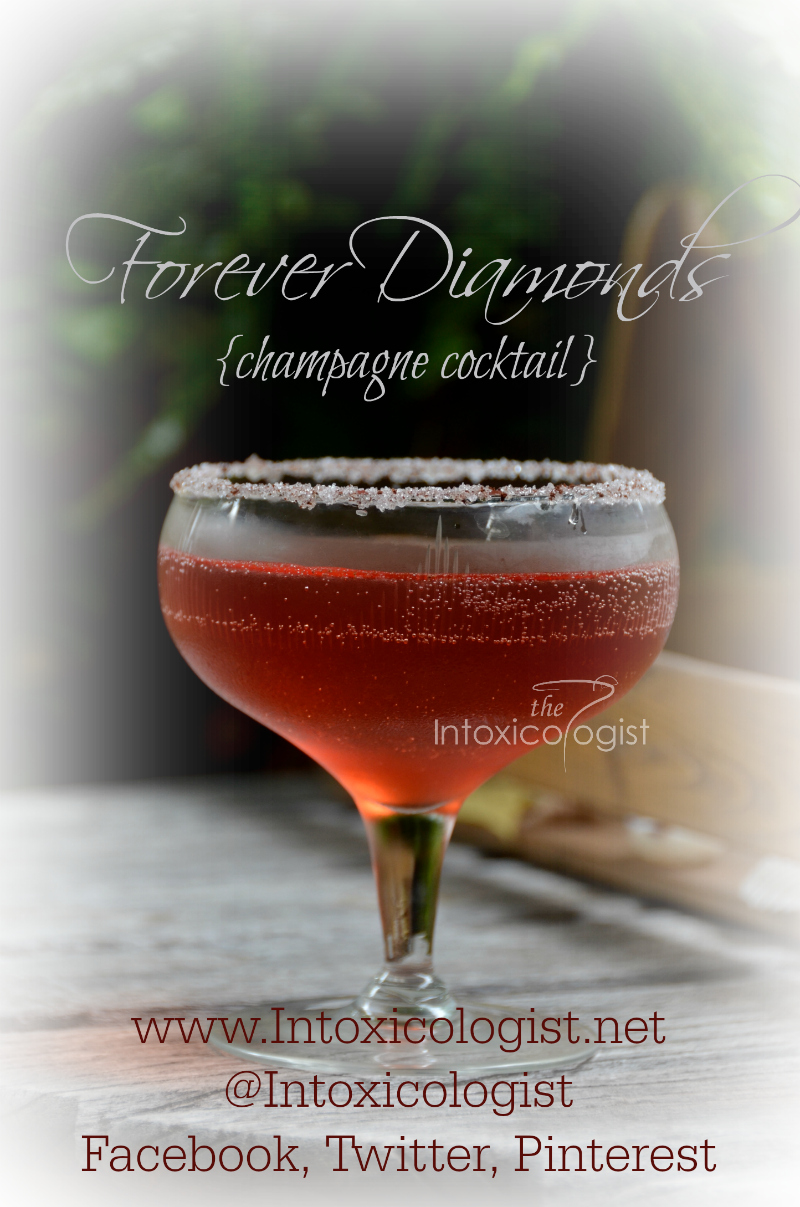 Forever Diamonds sparkles and shines. It's also festive with winter seasonal flavors or cranberry, apple and spice. Brown sugar brings a bit more warmth and depth to the flavor than regular granulated sugar or simple syrup. The sugar and clove spiced rim is what makes this champagne cocktail a true winner.
Forever Diamonds Champagne Cocktail
Forever Diamonds – recipe by Cheri Loughlin, The Intoxicologist
3 ounces Barefoot Brut Cuvee
1-1/2 ounce Cranberry Juice
1 ounce Apple Juice
1/4 ounce Lemon Juice
2 heaping teaspoons Brown Sugar
Dash of Clove Spice
Sugar & Clove Spice Rim
Rim chilled coupe or cocktail glass with lemon. Dip into sugar and clove mixture. Set aside. Place juices, brown sugar and dash of clove in cocktail shaker with ice. Shake to blend and chill. Strain into sugar rimmed cocktail glass. Top with Barefoot Brut Cuvee.
Subscribe to the monthly Newsletter
The Forever Diamonds cocktail was commissioned by Barefoot Wine & Bubbly as part of The Intoxioclogist Corporate Mixology program. You can find this recipe on the Barefoot Wine website or Facebook page as the Cranberry & Spice Sparkler. Find more recipes created by Cheri Loughlin for Barefoot Wine & Bubbly on this site.
All content ©2014 Cheri Loughlin, The Intoxicologist. All Rights Reserved. Chat with Cheri @Intoxicologist on Twitter and facebook.com/Intoxicologist
Forever Diamonds Champagne Cocktail