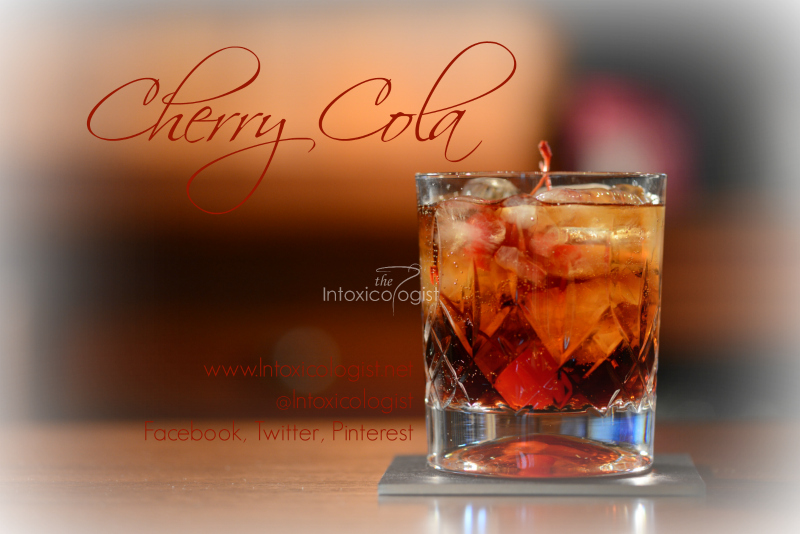 This Cherry Cola is a more sophisticated version of the ordinary, yet very popular, Cherry Coke®. The flavors layer throughout the drink very nicely. Amaretto can sometimes overwhelm a drink, but in this case it adds just a hint of subtle flavor rounding out all the flavors. You could also substitute Dr Pepper® for the cola.
Rum infused cherries would be perfect in this drink!
Cherry Cola Drink Recipe
Cherry Cola – recipe by Cheri Loughlin, The Intoxicologist
1-1/4 ounce Shellback Spiced Rum
1/2 ounce Cherry Brandy
1/4 ounce Amaretto Liqueur
2 ounces Cola
1 teaspoon Maraschino Cherry Syrup
3 Maraschino Cherries
Place ice in a large rocks glass or tall glass. Add rum, brandy and amaretto liqueur. Top with cola. Drizzle maraschino cherry syrup over the top. Garnish with maraschino cherries. Add a stir stick or straw for stirring.
Subscribe to the monthly Newsletter
The Cherry Cola recipe was commissioned by representatives of Shellback Rum as part of The Intoxicologist Corporate Mixology program. Find this recipe and more created by Cheri Loughlin for Shellback Rum on this site and at ShellbackRum.com and by following Shellback Rum on Facebook.
All content ©2015 Cheri Loughlin, The Intoxicologist. All Rights Reserved. Chat with Cheri @Intoxicologist on Twitter and facebook.com/Intoxicologist