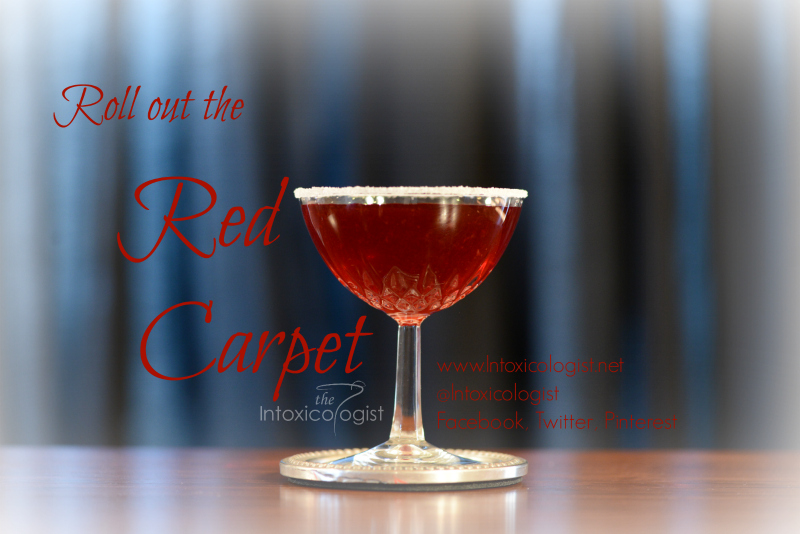 Enjoy the red carpet treatment from the comfort of your own home. This Red Carpet cocktail lives up to its name with spectacular crimson color and delicious flavor. The sugared rim makes this a dazzling Red Carpet experience. The sugared rim also adds a bit of sweetness to the cherry and light vanilla flavor.
The color instantly made me think of red carpet worthy events such as The Oscars, Emmys and Grammys. But it's also ideal for Valentine's Day and Christmas.
Red Carpet Cocktail Recipe
Red Carpet – recipe by Cheri Loughlin, The Intoxicologist
1-1/2 ounce Shellback Silver Rum
1/2 ounce Cointreau (Premium Orange Liqueur)
1 ounce Tart Cherry Juice
1/2 ounce Grenadine
1/4 ounce Fresh Lemon Juice
Sugar
Lemon Wedge
Place sugar in a shallow dish. Rim the lip of a cocktail glass with lemon wedge. Dip lip of glass in the sugar. Set glass aside. Place all liquid ingredients in a cocktail shaker filled two-thirds full of ice. Shake to blend and chill liquids. Strain into sugar-rimmed glass.
Subscribe to the monthly Newsletter
The Red Carpet recipe was commissioned by representatives of Shellback Rum as part of The Intoxicologist Corporate Mixology program. Find this recipe and more created by Cheri Loughlin for Shellback Rum on this site and at ShellbackRum.com and by following Shellback Rum on Facebook.
All content ©2015 Cheri Loughlin, The Intoxicologist. All Rights Reserved. Chat with Cheri @Intoxicologist on Twitter and facebook.com/Intoxicologist
Experience the Red Carpet Treatment