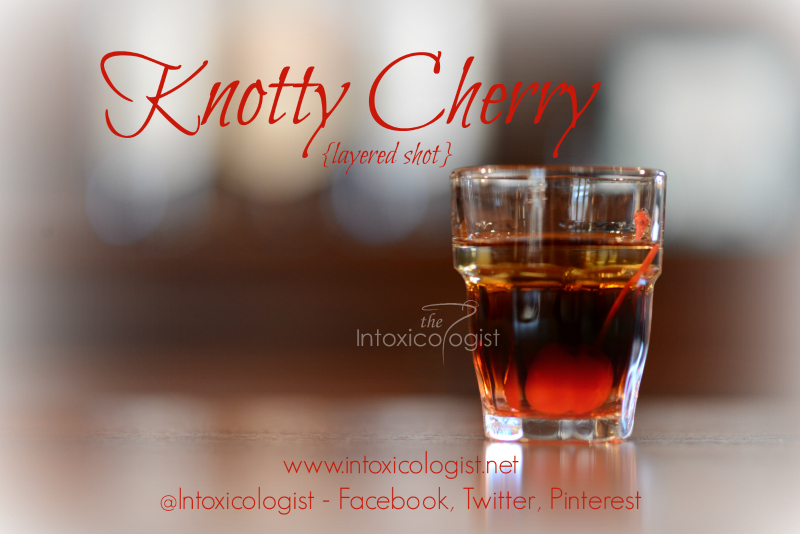 Cocktails are supposed to be fun. But shots let you know it's time to get the party started. The Knotted Cherry shot is just that kind of shot. It's visually fun with its layered effect. But equally fun after the sipping and shooting are done. Try tying the little cherry stem using only your tongue. Some can do it, others can't. Either way it's a fun race to the finish!
Knotty Cherry is terrific for a fun Girl's Night Out or couple's night in. Who knows where all that "knotty" business will lead!
Knotty Cherry Shot Recipe
Knotty Cherry – recipe by Cheri Loughlin, The Intoxicologist
Maraschino Cherry
1/2 ounce Butterscotch Schnapps
1/2 ounce Chocolate Liqueur (Godiva Original)
1/2 ounce Shellback Silver Rum
Place maraschino cherry in bottom of a shot glass. Add butterscotch schnapps. Carefully pour chocolate liqueur over the back of a bar spoon on top of the schnapps to form the second layer. Repeat this process with the rum for the third layer.
Shoot the buttery chocolate shot. Eat the cherry. Tie the stem with your tongue!
Subscribe to the monthly Newsletter
The Knotty Cherry shot recipe was commissioned by representatives of Shellback Rum as part of The Intoxicologist Corporate Mixology program. Find this recipe and more created by Cheri Loughlin for Shellback Rum on this site and at ShellbackRum.com and by following Shellback Rum on Facebook.
All content ©2015 Cheri Loughlin, The Intoxicologist. All Rights Reserved. Chat with Cheri @Intoxicologist on Twitter and facebook.com/Intoxicologist