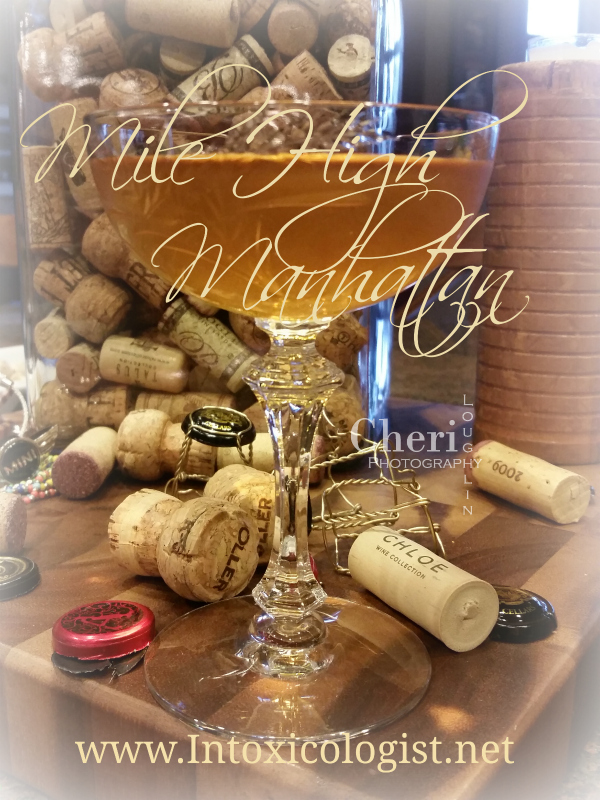 After making my own vanilla liqueur it was time to test it out in some cocktails. I tried the Mile High Manhattan, but in all honesty didn't care for the anise inclusion. Even a drop or two overpowers the drink since anise has such a distinct flavor. It just didn't suit the flavor I was looking for. But the base recipe for the Mile High Manhattan is terrific. (BTW, check out the Bellini Manhattan in the link. Doesn't it sound yummy?!) It did come across as a little sweet with just the bourbon and liqueurs. The orange and vanilla combination begged for chocolate in my opinion, but not more sweet. Chocolate bitters seemed like the perfect way to go.
Mile High Manhattan Recipe Variation
Mile High Manhattan – adapted by Cheri Loughlin
2 ounces Bourbon
1/2 ounce Vanilla Liqueur (make your own)
1/2 ounce Grand Marnier Liqueur
1 dash Chocolate Bitters
1 dash Orange Bitters
Orange Peel
Place liquids in a mixing glass with ice. Stir until completely chilled. Strain into a martini glass. Twist fresh orange peel over the drink, swirl around lip of glass and discard peel. This drink may also be served in a rocks glass over a large cube of ice.
Recipes I found suggest Maker's Mark Bourbon. It's good that way, but I suggest using a bourbon (or rye if you prefer) with spicy notes and dry finish rather than a bourbon with lush, sweet finish. This drink contains enough sweetness as it is. The bitters help balance out the sweetness and lend subtle chocolate and orange flavor.
Subscribe to the monthly Newsletter
All content ©2015 Cheri Loughlin, The Intoxicologist. All Rights Reserved. Chat with Cheri @Intoxicologist on Twitter and facebook.com/Intoxicologist
Mile High Manhattan Recipe Variation