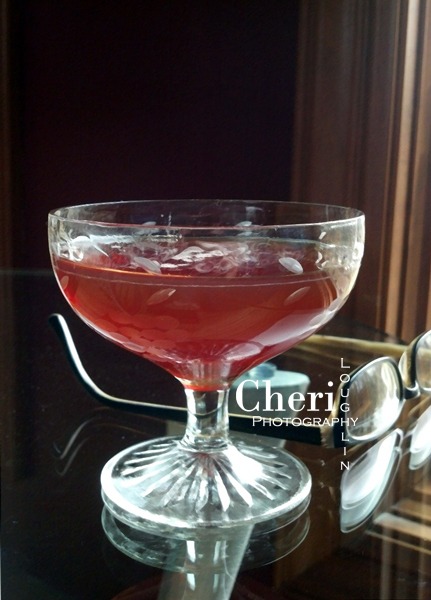 A well made classic Manhattan is just one of my many favorite cocktails. I seldom grow tired of trying different recreations of this particular drink. Recently I started tinkering with one of my own Manhattan variations. Though the adjustments are minor, the changes made a big difference in taste. I created the (ri)1 & the Elusive Heering recipe in April 2009 when I first started experimenting with rye. The drink seemed to need a heavier hitting rye. Rittenhouse Rye Whiskey 100 proof carries just enough weight and sweetness to balance the flavors of this drink.
This dark cherry variation of the Manhattan classic cocktail is deeply satisfying. Cinnamon wafts through with just a touch of chocolate. I sampled this one evening cocktail style and again over three square cubes of ice. There were both simply divine, but each tasted a little different. To be honest, though I am a huge fan of cocktails I preferred the rocks style version better. It was deeper in flavor, richer, more complex. Drinks on the rocks last a little longer for me anyway, so I savored it a little longer. Sample this both ways and let me know what you think.
Dark Cherry Manhattan Cocktail Recipe
Dark Cherry Manhattan – recipe by Cheri Loughlin, The Intoxicologist
2 ounces Rittenhouse Rye Whiskey
1/2 ounce Herring Cherry Liqueur
1/2 ounce Lillet Blanc
4 dashes Angostura Bitters
Orange Twist Garnish
Combine liquids in mixing glass with ice. Stir to chill. Strain into chilled cocktail glass or coupe. Garnish with fresh orange twist. Alternative: Pour mixture over one single large ice cube or two or three 1 – inch ice cubes for on the rocks serve.
All content ©2014 Cheri Loughlin, The Intoxicologist. All Rights Reserved. Chat with Cheri @Intoxicologist on Twitter and facebook.com/Intoxicologist or str8upcocktails@gmail.com