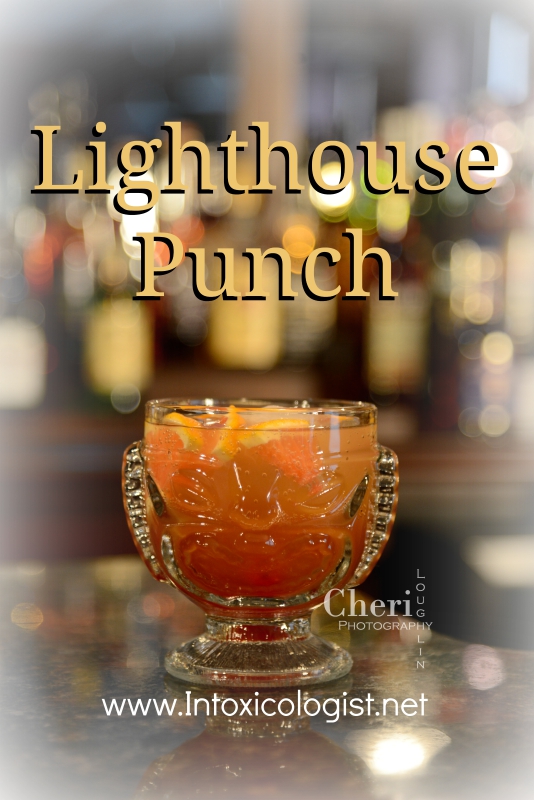 Pusser's Gunpowder Rum was provided to me for cocktail development purposes. All thoughts and opinions shared in text and tasting notes are my own.
This punch-style drink is ideal for year round sipping, but especially appropriate for National Rum Day, August 16. Make one drink or a whole batch and celebrate the day with friends.
The Lighthouse Punch recipe is loosely based on the very popular Scorpion rum punch. Some Scorpion recipes use all equal parts. This gives the drink a rather unbalanced flavor profile in my opinion. Others call for light rum with over-proof rum float. The recipe already has an abundance of ingredients, so consolidating the rum makes sense for easier preparation.
I've adapted the recipe using flavorful over-proof rum and cherry brandy rather than plain brandy. Cherry brandy plays on the hidden cherry notes within the gunpowder rum. Lime juice balances the cherry with a touch of sharp citrus. Club soda diffuses the rich flavors and makes the spirit to mixer ratio in better balance for a punch style drink.
The recipe resembles the Scorpion, but no longer carries the sting of so much alcohol. It also adds more layers of fruit flavor. Lighthouse Punch contains multi-layered flavor with light cherry almond notes peeking through. Lighthouse Punch was so named due to the four historic lighthouses in Barbados.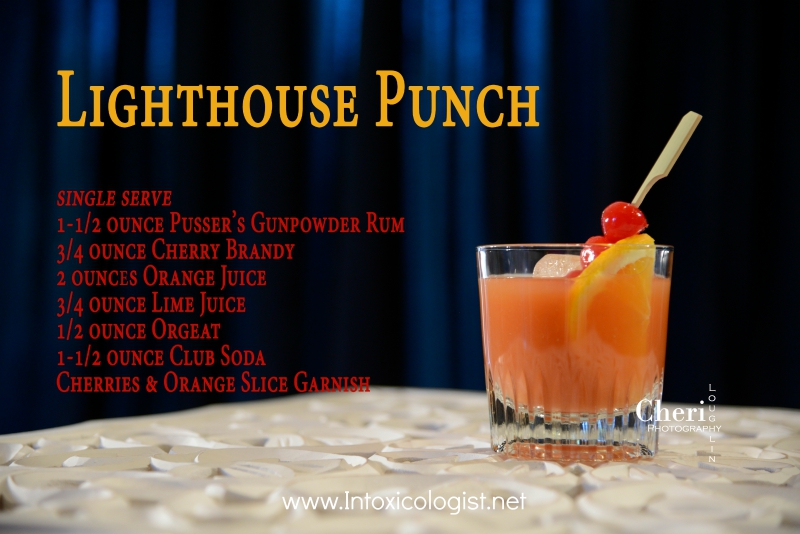 Lighthouse Punch Single Serve Recipe
Lighthouse Punch – recipe adaption by Cheri Loughlin
single serve
1-1/2 ounce Pusser's Gunpowder Rum
3/4 ounce Cherry Brandy
2 ounces Orange Juice
3/4 ounce Lime Juice
1/2 ounce Orgeat
1-1/2 ounce Club Soda
Cherries & Orange Slice Garnish
Combine rum, brandy, juices and Orgeat in a cocktail shaker with ice. Shake until well chilled. Strain into a large rocks glass over ice. Top with club soda. Garnish with cherries and orange slice.
Lighthouse Punch Party Serve Recipe
Lighthouse Punch – Batch Serve
serves 12 – makes 72 ounces
12 ounces Pusser's Gunpowder Rum
9 ounces Cherry Brandy
24 ounces Orange Juice
9 ounces Lime Juice
6 ounces Orgeat
12 ounces Club Soda
Cherries & Orange Slice Garnish
Place rum, brandy, juices and Orgeat in a pitcher or punchbowl. Stir and refrigerate for four hours to overnight. When ready to serve, pour club soda into mixture, stir and ladle or pour into large rocks glasses over ice. Garnish with cherries and orange slices.
A punchbowl size ice block could be made using a shallow round plastic container with lid. Stack cherries and orange slices in the plastic container. Fill container with water, leaving approximately 1/4 inch room for water expansion at top of container. Seal or cover with plastic wrap. Freeze overnight. Place fruited ice block in punchbowl just before serving punch.
This recipe can be stretched to more servings by using smaller punch cups.
Pusser's Rum Gunpowder Proof – Tasting Notes Review
54.5% ABV
Lots of caramel on the nose. Dark caramel to brown sugar in color. No burn on the nose.
Tasted neat – burn on the tongue (to be expected). Terrific flavor! Molasses, honey, caramel, brown sugar. Chewy. Lush, rich. Hint of cherry buried deep within.
I get the sense of a flowing river of caramel. Slight thickness on the tip of the tongue at first; such as richness of spirit.
Subscribe to the monthly Newsletter
All content ©2015 Cheri Loughlin, The Intoxicologist. All Rights Reserved. Chat with Cheri @Intoxicologist on Twitter and facebook.com/Intoxicologist
Disclosure: All thoughts and opinions shared in this post are my honest personal opinions. I am disclosing this in accordance with the Federal Trade Commission's 16 CFR, Part 255: "Guides Concerning the Use of Endorsements and Testimonials in Advertising."
Pusser's Gunpowder Rum Lighthouse Punch