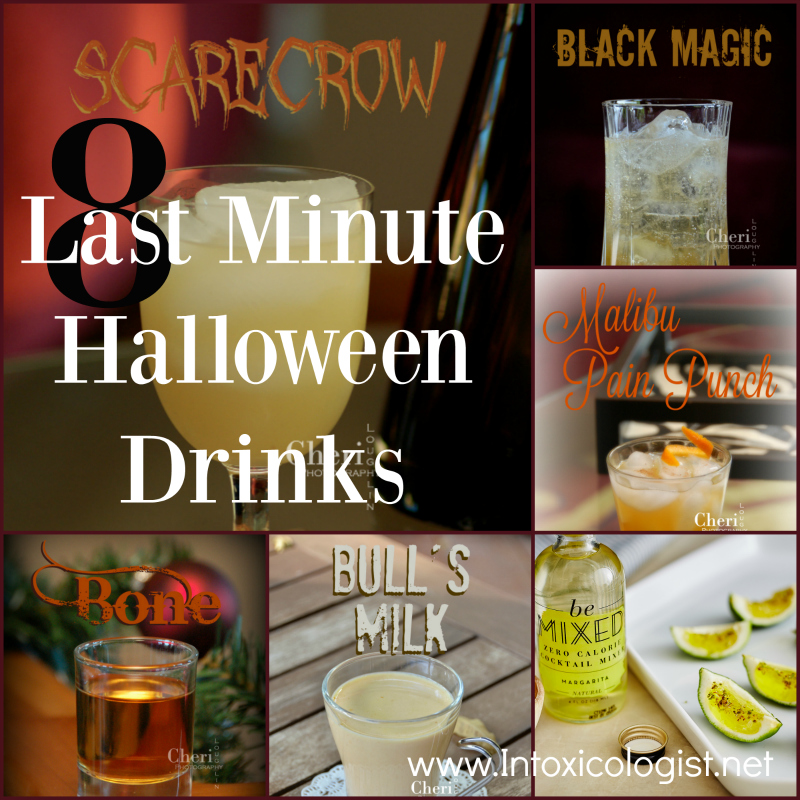 Malibu and Be Mixed recipes and photos provided by brand representatives unless otherwise stated. All comments and opinions are my own.
It's not too late to make a few changes to your Halloween cocktail menu. Check out the following recipes to make your Halloween spook-tacular.
Scarecrow Recipe
Tastes a little like unroasted buttered sweet corn.  Extreme corn flavor.  Definitely have to love the flavor of corn to care for this particular cocktail since it plays up the tone of the corn whiskey.
Scarecrow – recipe by Cheri Loughlin
1 ounce Corn Whiskey
1/2 ounce Vanilla Liqueur – make your own here
1/2 ounce Banana Nectar
1/4 ounce Tuaca Liqueur
1 teaspoon Simple Syrup
Combine liquids in a cocktail shaker with ice.  Shake to blend.  Strain into an old fashioned glass over fresh ice.
Black Magic Recipe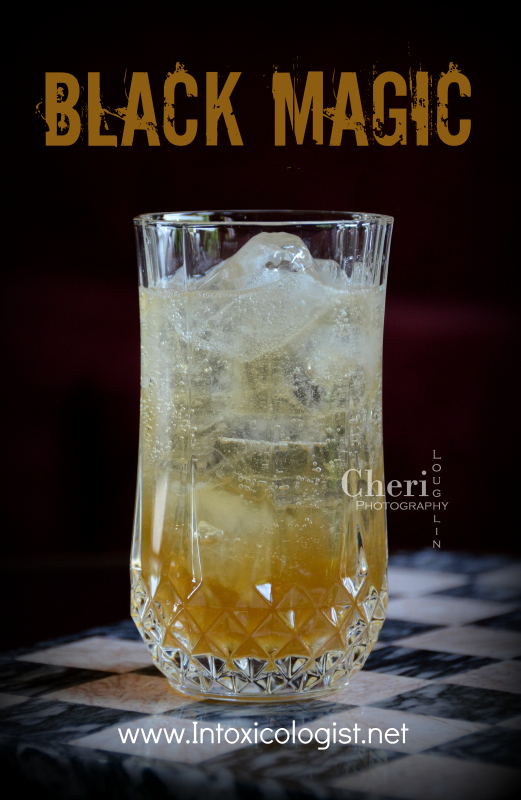 Black Magic
1-1/2 ounce Dark Rum
1/2 ounce Cognac
1 teaspoon White Crème de Menthe
1/2 ounce Lime Juice
1/2 ounce Papaya Nectar
Fresh Pineapple Spear
Place all liquids in a cocktail shaker with ice. Shake to blend. Strain into a tall glass over crushed ice. Garnish with pineapple spear if desired. Serve with a straw.
Bone Aperitif or Shot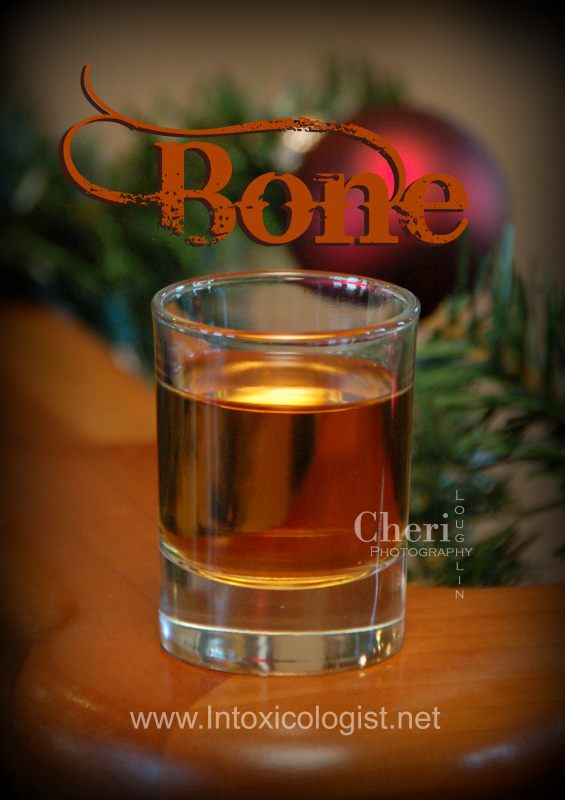 This is a potent little drink. Sip wisely and your bones will stay intact. Go easy on the Tabasco. It's easy to get carried away with a few extra dashes.
Bone
2 ounces Wild Turkey 101-proof Rye Whiskey
1 teaspoon Lime Juice
1/2 ounce Simple Syrup – make your own here
3 dashes Tabasco Sauce
Combine liquids in a cocktail shaker with ice. Shake until well chilled. Strain into a aperitif glass to sip or shot glass to shoot it.
Bull's Milk Hot or Cold Recipe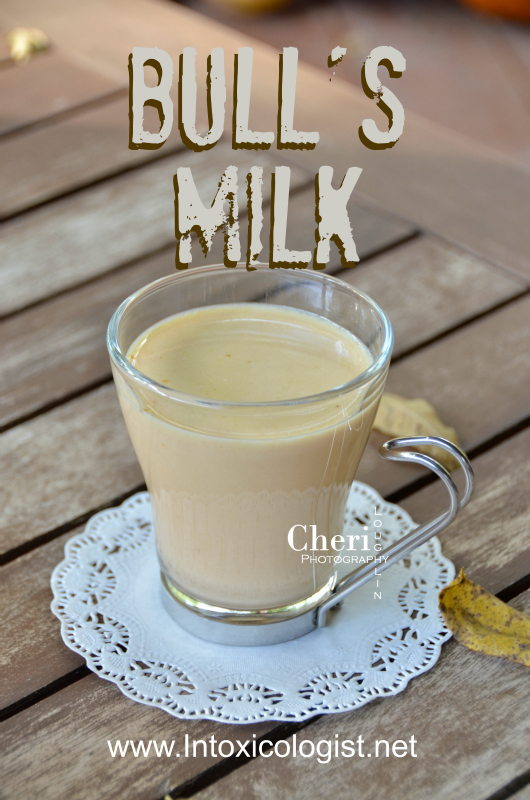 Bull's Milk is usually served heated, but feel free to enjoy this delicious drink cold. Shake all liquids in a cocktail shaker with ice and strain into a tall glass. Even better, blend the ingredients with ice until smooth for a nice frozen treat. Oh, did I mention adding vanilla ice cream. Yeah, that would be good blended with this as well.
Bull's Milk
1 ounce Cognac
1/2 ounce Dark Rum
1 teaspoon Simple Syrup
4 ounces Hot Milk
Fresh Grated Nutmeg
Place cognac, rum and simple syrup in a warmed mug. Fill with steaming hot milk. Garnish with grated nutmeg over the top.
Pain Punch Recipe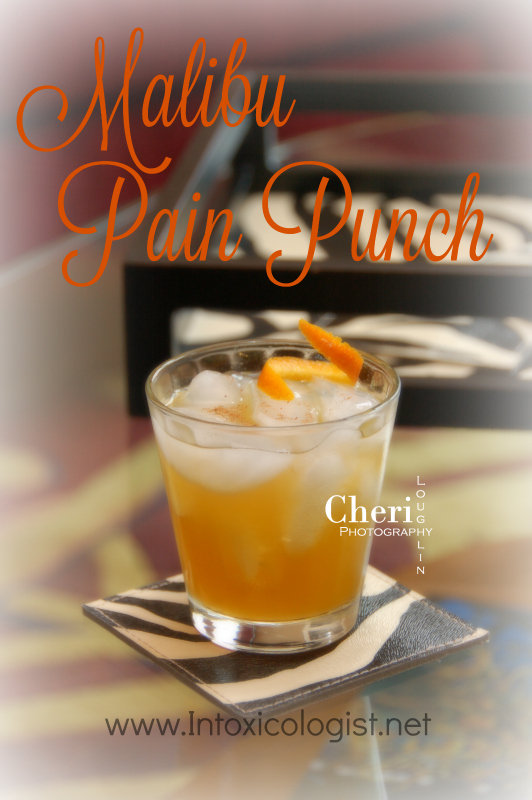 Malibu Pain Punch
1 ounces Malibu Black
1 ounce Fresh Orange Juice
1 ounces Unsweetened Pineapple Juice
1 ounce Coconut Water
Orange Slice
Place crushed ice in a tall glass. Add juices, Malibu Black and coconut water. Stir briefly. Garnish with orange slice.
Jell-O Shots Recipe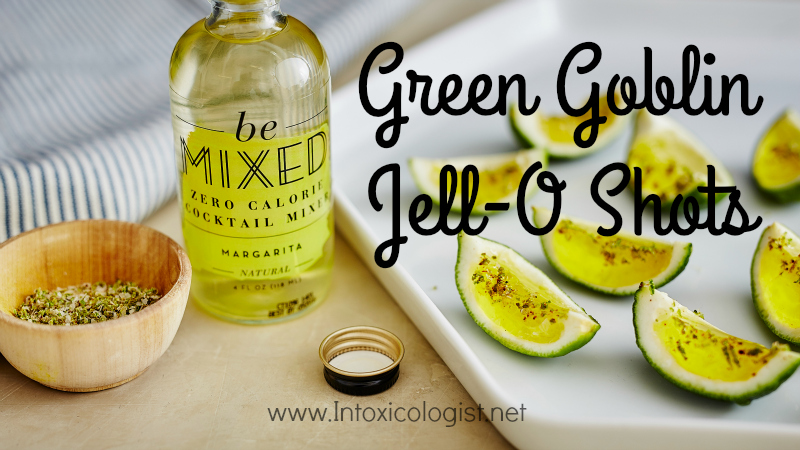 Green Goblin Jell-O Shots
10 large Limes
1 packet Lemon flavored Jell-O
1 cup Tequila
1/2 cup Water
1 bottle Be Mixed Margarita Mix
1/8 teaspoon Chili Powder
1/4 teaspoon Salt
Zest 2 of the limes. Cut the remaining limes in half lengthwise. Scoop out the inside of the halved limes, leaving as little flesh as possible. Discard or juice the flesh for later use if desired. Place limes cut side up in a stable dish with edges such as a cake pan. Set aside.
Bring water and margarita mix to boil in a small saucepan. Remove from heat. Pour in Jell-O packet. Stir until fully dissolved. Add tequila. Stir. Carefully pour mixture into each lime half, filling each to the top. Carefully place the dish into the refrigerator. Refrigerate at least 4 hours or overnight.
Mix salt, lime zest and chili powder in a small bowl. Once lime halves are completely set, cut each wedge lengthwise into 3 or 4 slices. Sprinkle spice mixture on top. Serve while still chilled.
Witches Brew Recipe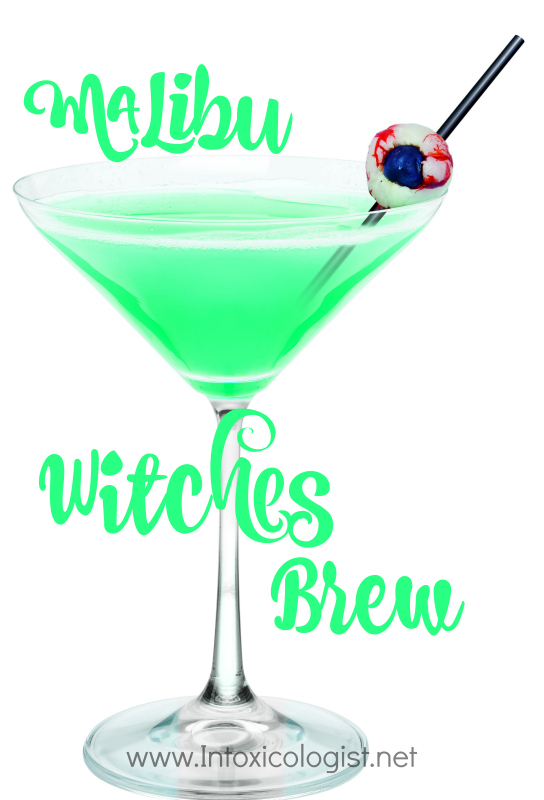 Malibu Witches Brew
1-1/2 ounce Malibu Red
2 ounces Pineapple-Orange Juice
1/2 ounce Blue Curacao Liqueur
Lychee Fruit, Blueberry, Grenadine Garnish
Stuff a fresh blueberry into a hollowed out area of the lychee fruit. Drip a small bit of grenadine over the fleshy white of the lychee. Pierce with a cocktail pick. Place in a chilled cocktail glass.
Place remaining liquid ingredients in a cocktail shaker with ice. Shake to chill. Strain into chilled cocktail glass with lychee fruit "eye" garnish.
Swamp Water Recipe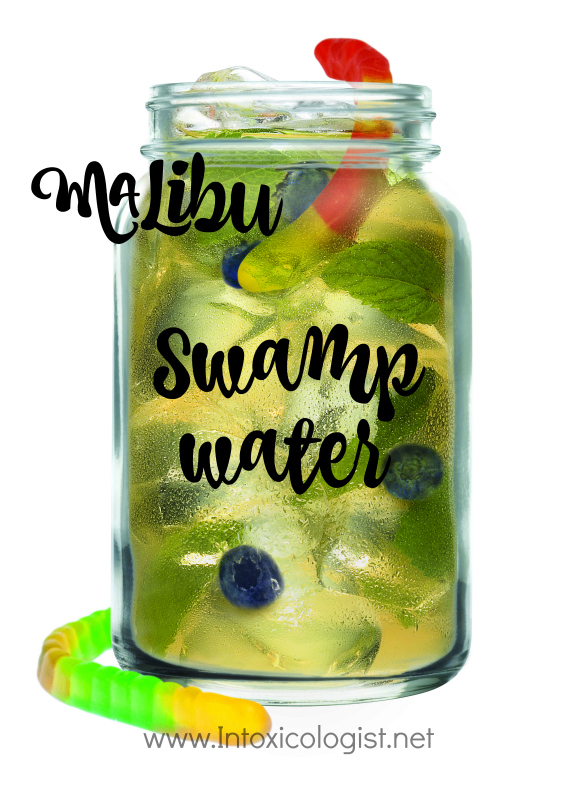 Malibu Swamp Water
1-1/2 ounce Malibu Spiced
10 to 12 Fresh Mint Leaves
1 Tablespoon Brown Sugar
1 ounce Lime Juice
2 ounces Club Soda
1/2 ounce Cola
10 Blueberries
Gummy Worms
Muddle sugar, mint and lime juice in bottom of a mason jar. Add crushed ice and blueberries in layers to fill glass two-thirds full. Top with Malibu Spiced, soda water and cola. Stir briefly. Garnish with gummy worms if desired.
Subscribe to the monthly Newsletter
All content ©2015 Cheri Loughlin, The Intoxicologist. All Rights Reserved. Chat with Cheri @Intoxicologist on Twitter and facebook.com/Intoxicologist
Cheri Loughlin is the Omaha writer and photographer behind www.intoxicologist.net and author of Cocktails with a Tryst: An Affair with Mixology and Seduction. You can email Cheri with comments and questions at str8upcocktails@gmail.com.
8 Last Minute Halloween Drinks