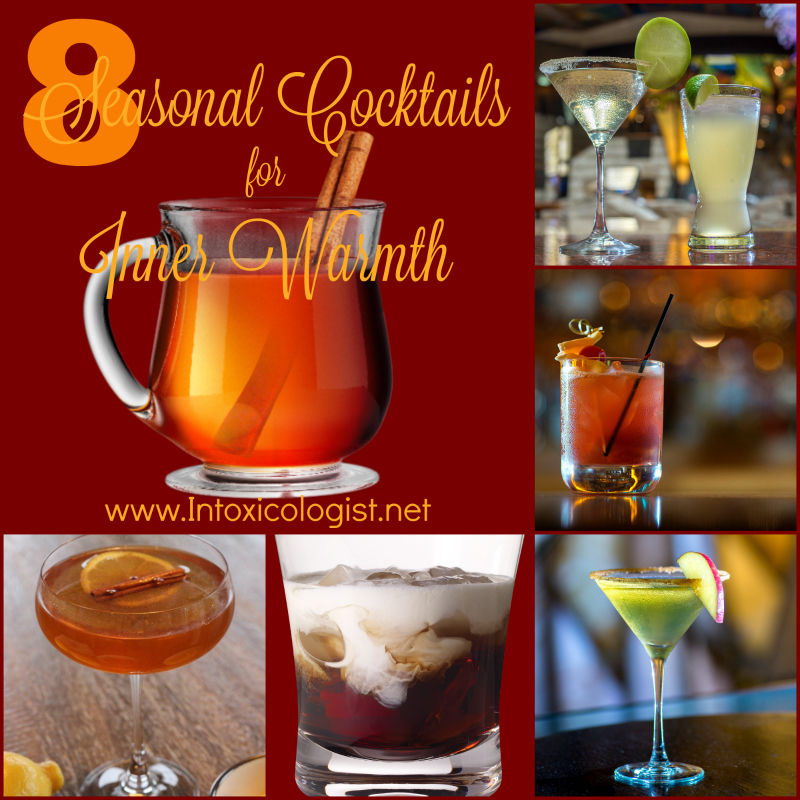 Recipes and photos provided by brand representatives. All comments and opinions are my own.
I get stuck in a rut with drinks and dinner plans just like everyone else. So I set a goal at the beginning of fall to try a few cocktails that I wouldn't ordinarily make. Lucky for me my email inbox is stuffed with new recipes on a daily basis. There are so many that I honestly can't try every one of them, but I can share them with you. Try a few out, play with the ingredient measurements so they fit your specific taste. And share your thoughts in comments. I want to know what you liked, didn't like and what you changed to make it better suited to you. So let's go!
Connecticut Signature Seasonal Cocktails
Connecticut warmly embraces local cocktail culture with its very own Connecticut Signature Cocktail Trail. There are nine signature cocktails available throughout the resort, three of which are listed below so you can make them at home.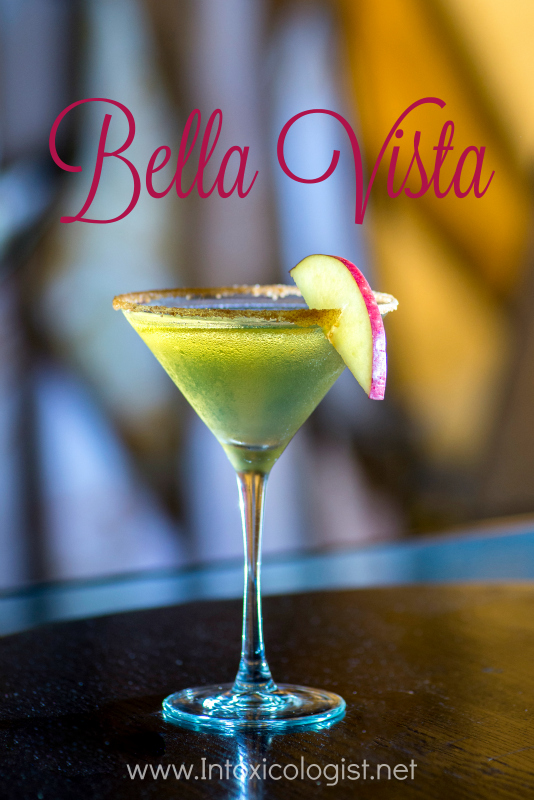 Vista Lounge presents the Bella Vista. Crown Royal is recommended, but Crown Royal Maple flavor sounds like it would fit well with this recipe too.
Bella Vista
2/3 ounce Crown Royal Whisky
1-2/3 ounce Sour Apple Pucker
2/3 ounce Grand Marnier Liqueur
Cinnamon
Apple Slice
Rim a chilled martini glass with lemon slice and then dip rim into cinnamon spice. Pour liquid ingredients into a cocktail shaker with ice. Shake to chill. Strain into prepared glass. Garnish with an apple slice on rim of glass.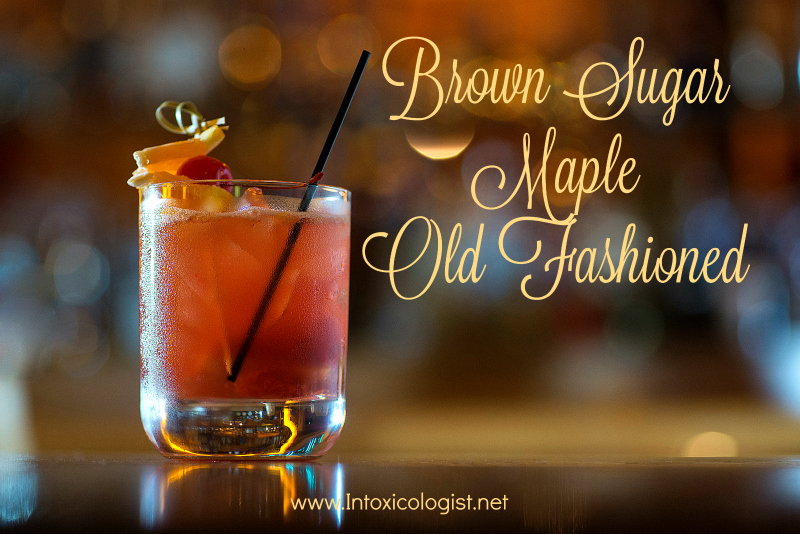 SolToro muddles fresh cherries and oranges with brown sugar for a fresh take on the Old Fashioned. SolToro uses Jim Beam Maple Whisky, but says Crown Royal's Maple Whisky is also fantastic for this recipe. They also recommend not overdoing the brown sugar. Remember you can always add more after tasting, but you can't take it away.
Brown Sugar Maple Old Fashioned
2 ounces Maple Whiskey
2 to 3 Maraschino Cherries
1 small Orange Wedge
2 to 3 dashes Aromatic Bitters – such as Angostura
1/2 teaspoon Brown Sugar
Cold Water
Muddle cherries, orange, brown sugar and bitters in the bottom of a mixing glass. Top with whiskey. Stir briefly to dissolve brown sugar. Pour into a rocks glass over a large ice cube. Add a splash of cold water if desired.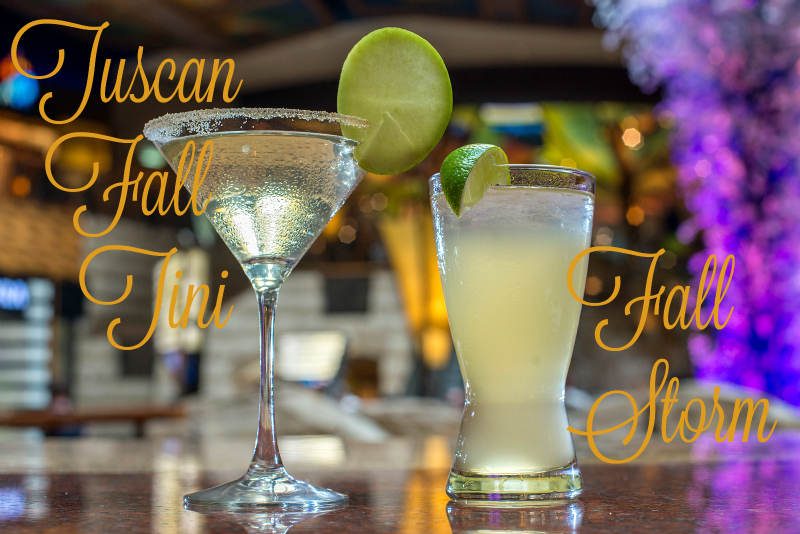 Tuscany breezes in with the Fall Storm and Tuscan Fall Tini. Fall Storm combines Irish whisky, caramel apple liqueur and ginger beer. The perfect storm for chilly days! Tuscan Fall Tini is a mix of caramel, apple and elderflower flavors. Sounds like an ideal caramel apple to me.
Fall Storm
1-1/2 ounce Jameson Irish Whiskey
1/2 ounce Caramel Apple Liqueur
3 ounces Ginger Beer
Lime Slice
Build liquids in a tall glass over ice. Garnish with lime slice.
Tuscan Fall Tini
2 ounces Bacardi Big Apple Rum
1/2 ounce Caramel Apple Liqueur
1/2 ounce St-Germain Elderflower Liqueur
Cinnamon & Sugar
Apple Slice
Rim martini glass with slice of lemon and dip into cinnamon sugar mix. Combine rum and liqueurs in a mixing glass with ice. Shake to chill. Strain into prepared martini glass. Garnish with apple slice.
Honey Apple Pie Recipe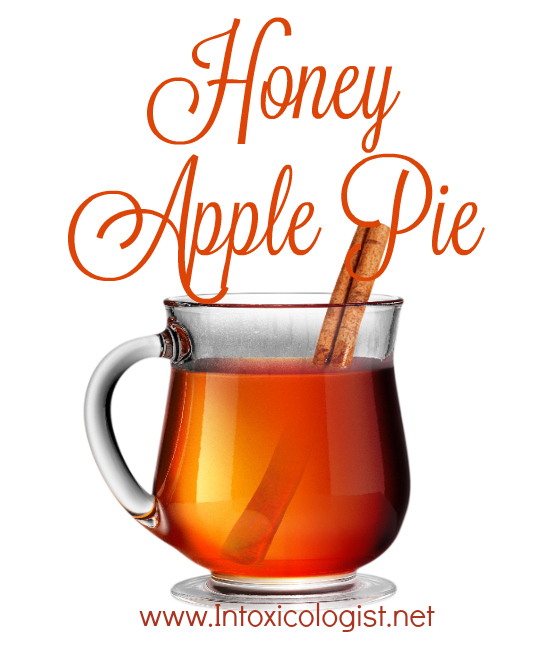 If you're fortunate enough to live close to an apple orchard, pick up some fresh apple cider for this recipe. Apple cider can also be found on the juice aisle pretty much year round, but it can be quite expensive. You can always buy hot apple cider mix and use individual packets for a quick and easy alternative to fresh. Prepare the hot apple cider according to package directions before using in the recipe below.
Honey Apple Pie
1-1/2 ounce Jack Daniel's Tennessee Honey
3 ounces Hot Apple Cider
Dash of Cinnamon
Cinnamon Stick Garnish – optional
Pour Jack Daniel's Tennessee Honey into a heat-proof mug. Top with hot apple cider and dash of cinnamon. Stir with cinnamon stick.
Kahlua Spiced Russian Recipe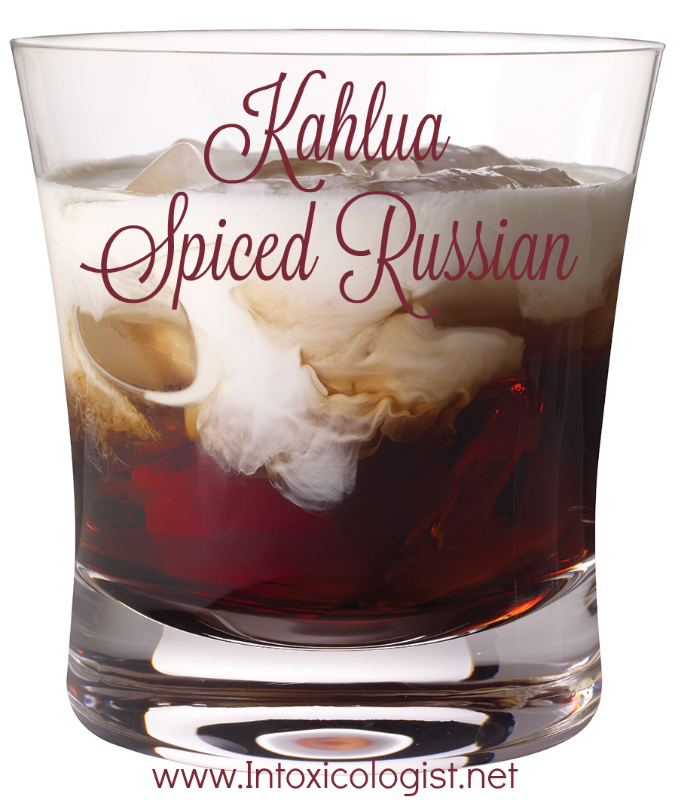 It's no secret that the White Russian is one of my favorite and sweetest indulgent drinks. I'm a fan of the drink with raspberry flavor included or exchanging regular vodka with espresso flavored vodka or even rum. It's just one of those comfort cocktails if you ask me. This variation comes across just a little sweeter than the usual White Russian since the ratios are much different. Try it out, adjust the measurements to your preference and enjoy a little taste of fall.
Kahlua Spiced Russian
1-1/2 ounces Kahlua Pumpkin Spice Liqueur
1/2 ounce Absolut Mandrin
1 ounce Half & Half
Grated Nutmeg
Place ice in a rocks glass. Add liquid ingredients in order given. Top with fresh grated nutmeg.
Kahlua Autumn Sweater Recipe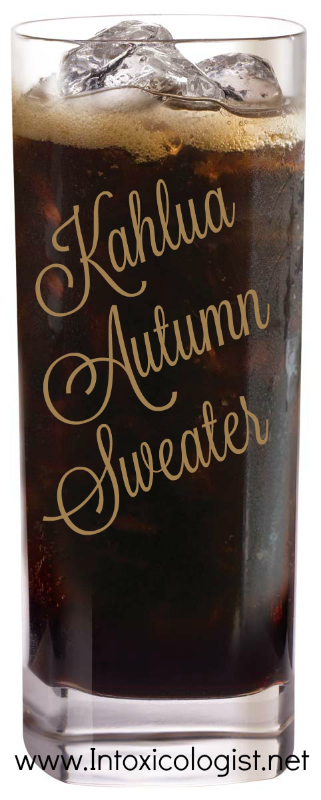 Who doesn't love yummy sweaters, warm leggings and fall boots?! Well don your coziest fall weather clothes and scoot on up to the outdoor bar or fire pit with friends. This drink is easy peasy to make with only three ingredients. If you're looking for something a little warmer, make a cup of instant hot cocoa and add 1 ounce of Kahlua Pumpkin Spice Liqueur and 1/4 ounce hazelnut liqueur. You're welcome!
Kahlua Autumn Sweater
1-3/4 ounces Kahlua Pumpkin Spice Liqueur
1/4 ounce Frangelico Hazelnut Liqueur
Cola
Lemon Wedge
Place ice in a tall glass. Add liqueurs. Top with cola. Stir briefly. Garnish with lemon wedge.
Tailgate Tea Recipe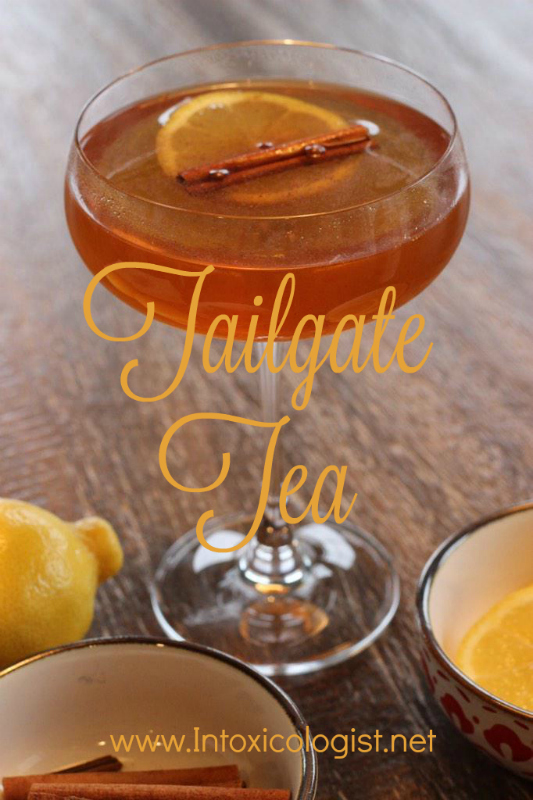 Football season has returned in full force, but don't save this drink for tailgates only. Tailgate Tea is a terrific addition to your seasonal cocktail wish list. Make your garnish something to ooh and aah about. Pierce the center of the lemon slice with the cinnamon stick and slide cinnamon stick halfway through. Place the cinnamon stick across the top of the cocktail glass with lemon wheel partially reaching the liquid for a cool presentation.
Tailgate Tea
1-1/2 ounce Jack Daniel's Tennessee Honey
1-1/2 ounce Lemonade
3 ounces Unsweetened Tea
Squeeze of Lemon
Lemon Wheel Garnish
Cinnamon Stick – optional
Combine liquids in a cocktail shaker with ice. Shake to chill. Strain into a chilled martini glass or coupe glass. Garnish with lemon wheel and cinnamon stick.
Subscribe to the monthly Newsletter
All content ©2015 Cheri Loughlin, The Intoxicologist. All Rights Reserved. Chat with Cheri @Intoxicologist on Twitter and facebook.com/Intoxicologist
Cheri Loughlin is the Omaha writer and photographer behind www.intoxicologist.net and author of Cocktails with a Tryst: An Affair with Mixology and Seduction. You can email Cheri with comments and questions at str8upcocktails@gmail.com.
8 Seasonal Cocktail Recipes for Inner Warmth