Sometimes the simplest pleasures cause monumental joy. Take for instance Big Daddy. This simplistic drink largely consists of basic cocktail elements; glass, ice, vodka, lime peel and water. Easy assembly. Laid back living. Thirsty?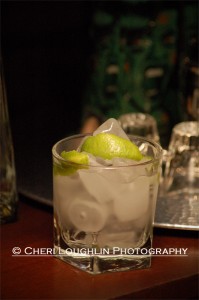 Big Daddy
1-1/2 ounce Vodka
Water
Lime Peel Garnish
Place vodka in a rocks glass with ice.  Add water.  Garnish with a lemon peel.
High resolution digital photo downloads are available for brand, cocktail menu creation use and individual use at www.cheriloughlin.com within the Beverages category.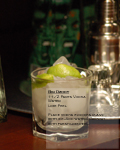 Find The Intoxicologist on Twitter, Facebook, StumbleUpon or Email: str8upcocktails@gmail.com – Copyright 2011 Cheri Loughlin – The Intoxicologist – All Rights Reserved – All opinions, reviews and spirits' coverage contained within are the personal opinion and decision of Cheri Loughlin, The Intoxicologist