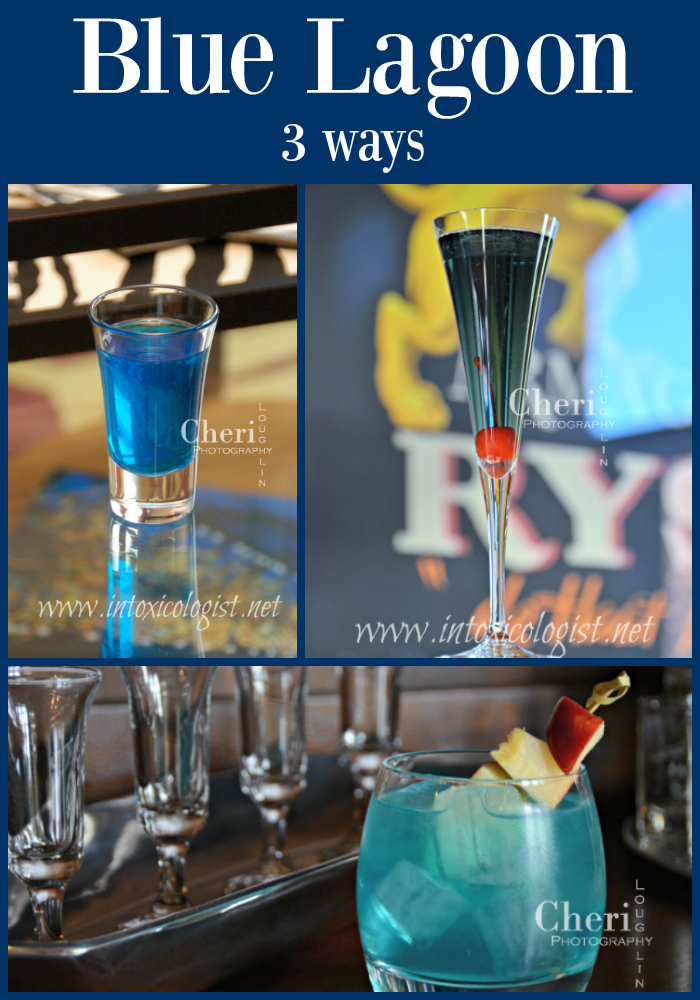 *Disclosure: contains affiliate links.
The Blue Lagoon drinks below are examples of recipes with the same name and varying ingredients. Have you ever ordered a familiar drink and have something entirely different arrive at your table? Chances are the drink you ordered has several variations associated with it.
As a customer it's frustrating to order one thing and get something entirely different. Think of how frustrating it can be for bartenders. They are asked nightly for drinks with many variations. Your bartender makes the one they are familiar with or is the most popular at their bar.
We read a lot about bartenders complaining about patrons calling spirits or telling them how they want their drink made. In reality, the majority of bartenders want to know if you have a special request regarding your drink. Within reason that is.
Know that special requests take more time to make. Asking questions about your drink before ordering might delay the delivery time. Bars get busy. So be patient and enjoy the company. Bartenders want you to have an enjoyable experience from atmosphere to the last drop of the drink in your glass.
Blue Lagoon Cocktail Recipe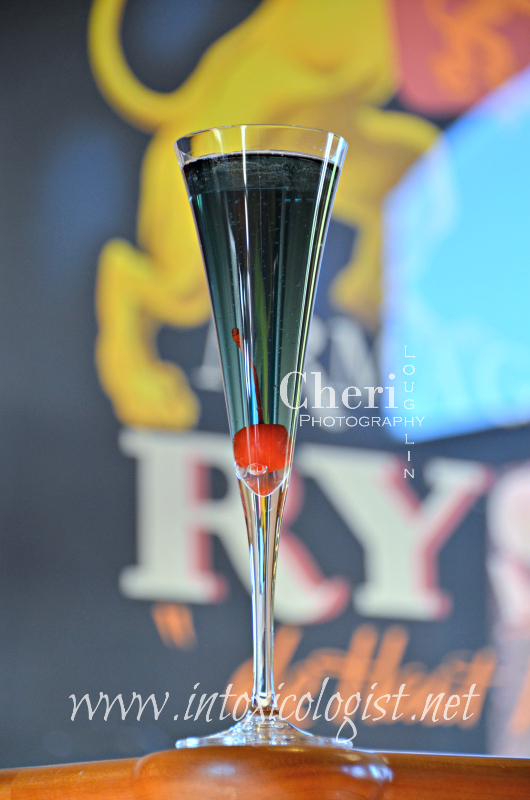 Lemonade could be substituted for fresh lemon juice and simple syrup. Sugar rimmed glass would be beautiful with this cocktail, but not necessary. The sugared rim would look a bit like white caps on the ocean. Go a step further and top the drink off with an ounce of prosecco or brut champagne for a sparkling experience.
Another variation of this drink calls for 2 ounces Vodka, 1-1/2 ounce Blue Curacao, 1/2 ounce Fresh Lemon Juice served in a large wine goblet over ice with Sprite topper.
Blue Lagoon
1 ounce Vodka
1 ounce Blue Curacao
1 ounce Fresh Lemon Juice
1/2 ounce Simple Syrup
Maraschino Cherry Garnish – optional
Combine liquids in a cocktail shaker with ice. Shake until well-chilled. Strain into a chilled cocktail glass. Garnish with cherry if desired.
It's always a good idea to make your own simple syrups. If you can't or want a quality product that is consistent every time, try Monin's simple and flavored syrups. They are highly regarded in the bartending business.
Blue Lagoon Long Drink Recipe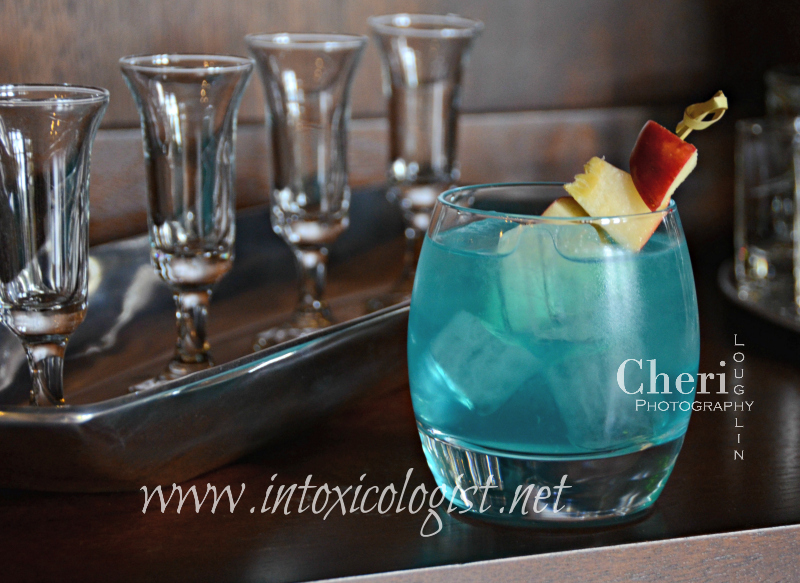 This recipe was provided to me by Three Olives Vodka representatives. It's more tropical in flavor than the others. The only thing it's missing is island coconut flavor. If you swap rum for vodka and add cream of coconut to this drink you'd have a Blue Hawaiian.
Replace the pineapple garnish for a few fresh red apple slices and serve this at your next Fourth of July party.
Blue Lagoon
1-1/2 ounce Three Olives Vodka
1/2 ounce Blue Curacao
4 ounces Pineapple Juice
Pineapple Slice Garnish
Place ice in a tall glass. Add liquid ingredients in the order given. Stir briefly. Garnish with a slice of pineapple.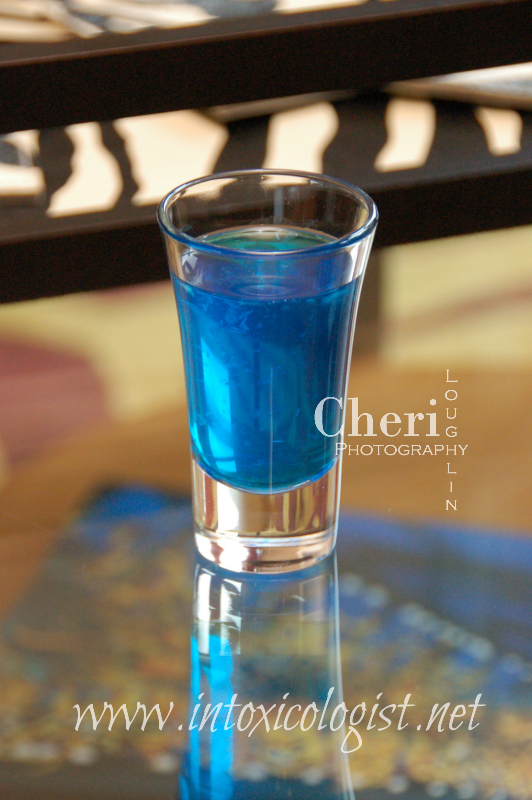 There is also a shot by the name of Blue Lagoon. It's a mix of vodka, blue curacao, and sour mix. Exact recipe measurements can be found here.
Subscribe to the monthly Newsletter
All content ©2016 Cheri Loughlin, The Intoxicologist. All Rights Reserved. Chat with Cheri @Intoxicologist on Twitter and facebook.com/Intoxicologist
Cheri Loughlin is the Omaha writer and photographer behind www.intoxicologist.net and author of Cocktails with a Tryst: An Affair with Mixology and Seduction. You can email Cheri with comments and questions at str8upcocktails@gmail.com.
*Disclosure: Some of the links in the post above are "affiliate links." This means if you click on the link and purchase the item, I will receive an affiliate commission. Regardless, all thoughts and opinions shared in this post are my honest personal opinions. I am disclosing this in accordance with the Federal Trade Commission's 16 CFR, Part 255: "Guides Concerning the Use of Endorsements and Testimonials in Advertising."