With Spring Break in full swing for some, yet the beautiful beaches out of reach for the vast majority it seems appropriate to bring Hawaii to the masses in the form of drink. Perhaps Hawaii is better known for more unusual drinks using ingredients such as papaya or Li Hing Mui, but the Blue Hawaiian is the cocktail with the namesake. 

Happy 1st Day of Spring! What better way to celebrate spring than dream about catching a few Hawaiian waves. YouTube video posted by gdaniels32. Be sure to click through and subscribe to the original feed and look up the photography at www.beachboyphotography.com.
About the Blue Hawaiian Cocktail
In researching the Blue Hawaiian, so many versions surfaced it was difficult to decipher which one was the "real" Blue Hawaiian and which ones were the imposters. What also came to the forefront is another drink often confused for the Blue Hawaiian; the Blue Hawaii. These two drinks share a name so similar it is no wonder they are often confused by many a bartender and patron alike. So let's break down the difference.
A true Blue Hawaiian never contains vodka, but rather rum. It also uses cream of coconut rather than sweet and sour mix. Adversely, the Blue Hawaii uses vodka instead of rum and sweet and sour mix, but no cream of coconut. Both however share something in common always; Blue Curacao. 
Blue Curacao is essentially an orange liqueur infused with the dried peels of the Larahas plant which is derived from the Valencia orange. The difference between Blue and Orange Curacao is the color. Substituting one for the other in a drink will only change the color, not the taste. 
The Blue Hawaii has an advantage over the Blue Hawaiian in that it makes for quite the easy party punch as well as individual cocktail drink. Since the Blue Hawaiian traditionally calls for cream of coconut which needs thorough stirring, shaking or blending, it is not conducive to a punch bowl setting. 
So, you decide. Pour over ice, stir, shake, or put the blender on puree. Set your sights on the sandy beaches of Hawaii, sit back and sip a tall, cool one. Choose one or try them all. 
Blue Hawaii & Blue Hawaiian Recipe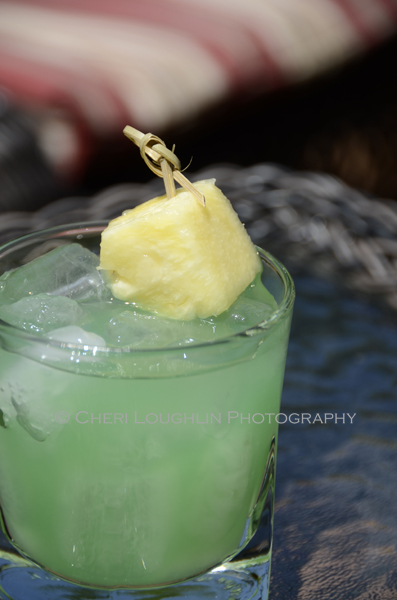 Blue Hawaiian
1 ounce Light Rum
2 ounces Pineapple Juice
1 ounce Blue Curacao
1 ounce Cream of Coconut
Pineapple Chunks Garnish
1 cup Ice
Combine liquids and ice in blender. Blend until all ice is thoroughly blended in cocktail. Pour into highball glass or decorative glass. Garnish with skewered pineapple chunks.
Blue Hawaii
1-1/2 ounce Vodka
1 ounce Blue Curacao
1 ounce Sour Mix
1 ounce Pineapple Juice
2 to 3 ounces Orange Juice
Pineapple Chunks & Maraschino Cherry Garnish
Combine liquids in highball glass over fresh ice. Stir to blend. Garnish with pineapple chunks and maraschino cherry.
Blend both worlds by trying the Blue Hawaii Cocktail.
Blue Hawaii Cocktail
1 ounce Vodka
1/2 ounce Blue Curacao
1/2 ounce Coconut Rum
1-1/2 ounce Pineapple Juice
3/4 ounce Lime Juice
Lemon Twist
Combine liquids in cocktail shaker with ice. Shake to blend and chill. Strain into chilled cocktail glass. Garnish with lemon twist.
See alternative reader version of the Blue Hawaii drink.
Subscribe to the monthly Newsletter
All content ©2016 Cheri Loughlin, The Intoxicologist. All Rights Reserved. Chat with Cheri @Intoxicologist on Twitter and facebook.com/Intoxicologist
Cheri Loughlin is the Omaha writer and photographer behind www.intoxicologist.net and author of Cocktails with a Tryst: An Affair with Mixology and Seduction. You can email Cheri with comments and questions at str8upcocktails@gmail.com.
Drink in the Beaches of Blue Hawaii