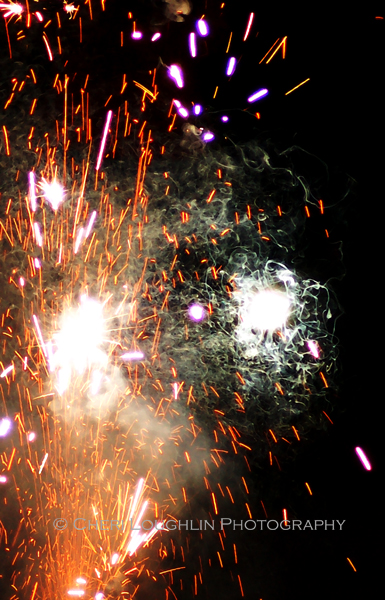 4th of July entertaining should be fun and easy. Having a few red, white and blue drink recipes on hand for the day isn't such a bad idea either. Red white and blue drinks add a splash of festive color to the occasion without purchasing 'extra' decorations. There are three red white and blue drinks below; one low calorie drink with full calorie option, one shot and one bubbly drink. Keep an eye on the website for more 4th of July recipe posts this week or scroll the 4th of July tab for previous recipes.
Royal Raelene Red Low Calorie Drink Recipe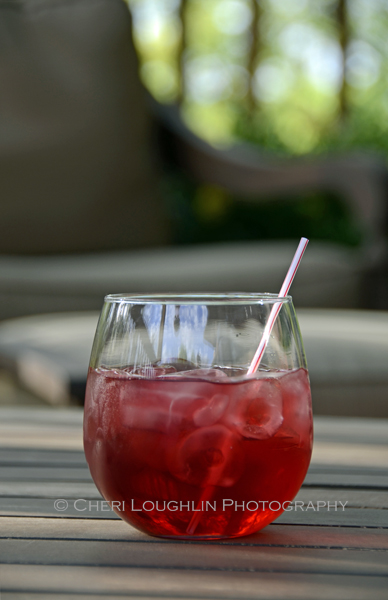 I chose Charbay Red Raspberry Vodka because Charbay does an excellent job infusing vibrant flavor into their vodka. The extra kick of fruited flavor fusion in the vodka means less need for additional fruits and sugars in the cocktail ingredients. It also means you can lower the alcohol intake and still get total raspberry flavor! Win win! The Royal Raelene drink is a deeply fruited, garnet colored drink meant for lingering refreshment. It is perfect for 4th of July summer entertaining.
Royal Raelene – recipe by Cheri Loughlin, The Intoxicologist
1 ounce Charbay Red Raspberry Vodka
3 ounce Light Cranberry Juice
1/2 ounce Pomegranate Juice
2 ounces Club Soda
Fresh Raspberries Garnish – optional
Combine liquids in goblet or stemless wine glass over fresh ice. Top with club soda. Garnish with fresh raspberries if desired.Squeeze in one lime wedge for twinge of tangy excitement and add only 2 extra calories.
Calorie count for this drink is approximate since I don't have the exact calories for Charbay Vodka. However based upon other flavored vodka estimations of calories this drink should be within the 92.5 calorie range as written.
Calories don't concern you? No problem! Increase Charbay Red Raspberry Vodka to 1-1/2 ounce and use regular Ocean Spray Cranberry Juice instead.
Endless Summer White Shot Recipe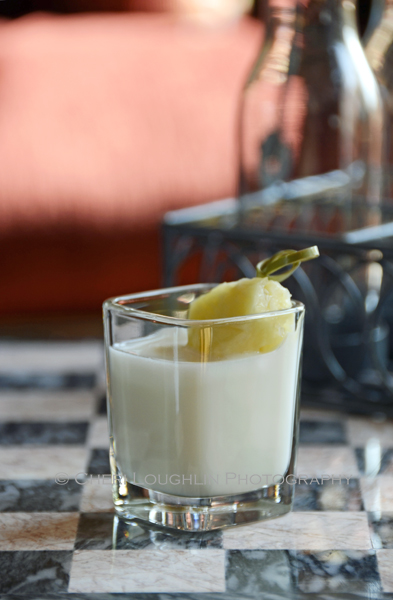 I don't know about you, but I wish every summer was an Endless Summer. Just put me on a beach with my toes in the sand listening to the waves as they roll on in. Yes. That's exactly my idea of the perfect year round, endless summer.
The Endless Summer Shot tastes like a chilled pineapple creamsicle. It could only be better if it were served on that beach I mentioned above.
Endless Summer Shot – recipe by Cheri Loughlin, The Intoxicologist
1/2 ounce Silver Rum
1/4 ounce Triple Sec
1/2 ounce Half & Half
1/2 ounce Pineapple Juice
Pineapple Piece Garnish – optional
Combine liquids in cocktail shaker with ice. Shake to blend and chill. Strain into shot glass. Garnish with pineapple piece if desired.
Lava Lamp Blue Bubbly Recipe
I asked for help naming this recipe on The Intoxicologist Facebook page. There were many fabulous answers, but one caught my eye. The name might not be 4th of July related, but it just seemed appropriate for the look of this particular drink. Lava Lamp sounds more 70's era than 4th of July fireworks, but the blue hue has got you covered for red white and blue cocktails.
Lava Lamp – recipe by Cheri Loughlin, The Intoxicologist
3/4 ounce Blue Curacao
1/4 ounce Grenadine
4 ounces Barefoot Brut Cuvee
Maraschino Cherry Garnish – optional
Combine blue curacao and grenadine in cocktail shaker with ice. Shake to blend and chill. Strain into champagne flute. Top with Barefoot Brut Cuvee. Garnish with sunken maraschino cherry.
Lava Lamp is a recipe I originally created for Barefoot Wine & Bubbly. View it on their website as the Barefoot Bubbly Winter Wonder. Seeing both recipes in different contexts shows you the versatility of drinks. You don't have to scramble for new recipes for every occasion. Use a different glass for presentation, rename a drink with something clever to fit the occasion or use a different garnish to give the drink a new look.
All content ©2013 Cheri Loughlin, The Intoxicologist. All Rights Reserved. Chat with Cheri @Intoxicologist on Twitter and facebook.com/Intoxicologist or str8upcocktails@gmail.com
Red White and Blue 4th of July Drinks