Of the three new flavors Three Olives Vodka released recently, the Root Beer Vodka had me bordering on uneasy.  Let me just say as a child and teen if I reached for a soda, it was root beer.  Root beer floats were my all time favorite.  My mother would make them for dessert frequently.  My older brothers would sometimes treat my siblings and me to an outing to the A&W restaurant for root beer floats.  Even now I make them for my children.  As an adult, sodas do not appeal to me anymore, but the flavor of root beer still holds special memories.  However, as an infused vodka, I just could not imagine it.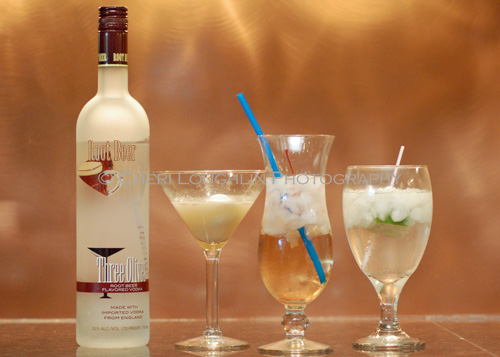 Three Olives web site almost says it all in its opening line describing the new root beer flavor… "Root, Root, Root.  What can we say?  A truly unique flavor…"  My take on that is not only what can they say, but "Why?"  In introducing the new Root Beer Vodka, Three Olives invites drinkers to partake of it on the rocks, as a shot, or in their favorite martini.  They created four recipes for imbibers to do just that.  I tried these recipes.  My overwhelming response to each one of them was "Why?" or better yet "What were they thinking?"
Three Olives Vodka is a much better company than this Root Beer Vodka portrays them to be.  They have done a superior job in their extensive line of other flavored vodkas.  In creating the Root Beer flavor Three Olives Vodka seems to be creating the perfect vodka for college age drinking binges.  This is the perfect flavor to add to a cocktail/iced drink in an effort to mask the flavor of alcohol.  It is the perfect way to get drunk fast. 
Take for instance the British Car Bomb.  The purpose of Bombs and Shots are to get drunk.  It certainly is not for flavor.  They are supposed to be shot so fast the drinker barely tastes it.  With the Root Beer flavor, the person shooting it will be grateful if it goes down fast. 
British Car Bomb
1 ounce Three Olives Root Beer Vodka
1/2 Pint Ale
Drop shot glass of Three Olives Root Beer Vodka carefully into 1/2 pint of ale.
The Brotherly Love is made in a tall glass.  I used Sprite for the lemon-lime soda.  This drink tastes primarily of vanilla.  Once I squeezed in the lime garnish it was a little better.  The only reason I can see for this drink is for a person to get drunk on something that tastes like a soda rather than like alcohol.  Since it tastes like soda pop it will be much easier for an unseasoned drinker (college age or younger) to drink these faster than their body will assimilate the liquor.  This means drunker faster.  I can see no other reason for this flavor.
Brotherly Love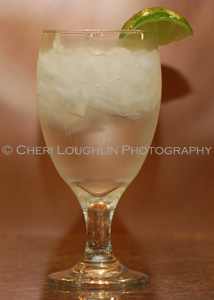 2 ounces Three Olives Root Beer Vodka
4 ounces Lemon-Lime Soda
Mix in a glass filled with ice and garnish with a lime wedge.
The same can be said of the Rock Star Root Beer.  This one is garnished with a cherry to make it a bit more girlie.  My question again is "Why?"  This tasted like a soda not a cocktail.  Again, all it is good for is getting someone drunk.  In my opinion this is bad mixology. 
Rock Star Root Beer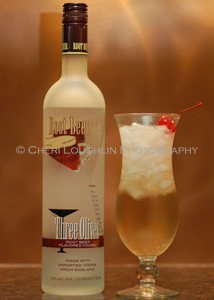 1 ounce Three Olives Root Beer Vodka
1 ounce Three Olives Vanilla Vodka
4 ounces Ginger Ale
Mix in a glass filled with ice and garnish with a cherry.
The Root Beer Floatini was something else.  This cocktail is just plain disgusting and horrible.  It sat for a minute while I took a photo.  In that short time the dollop of ice cream began to melt into the cocktail.  The mix of ice cream within the Root Beer Floatini became most unappetizing.  This in all likelihood was the worst of the three drinks I tried. 
Root Beer Floatini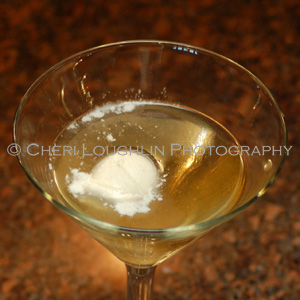 1-1/2 ounce Three Olives Root Beer Vodka
1/2 ounce Amaretto Liqueur
Shake hard over ice and strain into glass.  Float a melon-ball size scoop of vanilla ice cream in center. 
All in all, the Root Beer Vodka tasted like root beer.  Is that a good thing or a bad thing?  I suppose it depends on your point of view.  If you are looking to pair it with energy drinks and other soda products or do bombs and shots with it, it is probably perfect.  As a serious vodka product the prospects are slim.  It seems its own creator, Three Olives Vodka, did not know quite what to do with it either.
July 20, 2009 – Update from The Intoxicologist –
Comments from readers showed many liked the Three Olives Root Beer Vodka.  In revisiting this spirit I have to say there still is not much in the way of creative cocktails I have been able to come up with using the Root Beer flavor.  However, I am only one person.  Taking a second look at Three Olives through the eyes of Three Olives Grape Vodka a while back gave me a different perspective of this particular brand.  While Three Olives makes great flavored vodkas starting with a clean base, the look and feel of their spirit seems to embrace the fun, interactive experience as a whole rather than the artisan craft/heritage so many other brands have adopted into their marketing formulas at the moment. 
The Root Beer flavor energizes generations remembering the past and infuses youthfulness into their entertainment experience.  At the same time Root Beer is a popular flavor that goes beyond the usual colas and indeed mixes well with ginger ales and ice creams.  There are many flavors on the market with limited uses, but they find a niche.  Three Olives Root Beer may have only had a handful of recipes available from the start and it may continue that way until another more popular flavor is introduced to the market that stirs up memories from the past. 
If you have a favorite Three Olives Root Beer Vodka recipe please leave a comment and share.
Twitter, Facebook, StumbleUpon – str8upcocktails @ gmail.com – ©2012 Cheri Loughlin-The Intoxicologist, All Rights Reserved. All opinions, reviews and spirits' coverage are the personal opinion and decision of Cheri Loughlin.
Three Olives Root Beer Vodka: Definitely a Bomb