I never thought myself much of a brown liquor girl until a few select scotches and the small batch bourbons from Kentucky made their way to my glass. Now I am hooked.  Basil Hayden's had me with its light, delicate flavor. Then along came the Basil Hayden's Fizz with Basil Hayden's and champagne topper. I am in effervescent bliss.  New Year's Eve is rapping at the door with perfect timing for champagne fluted cocktails. What better way to celebrate than with exceptional bourbon added to festive champagne?!
Basil Hayden's Fizz Recipe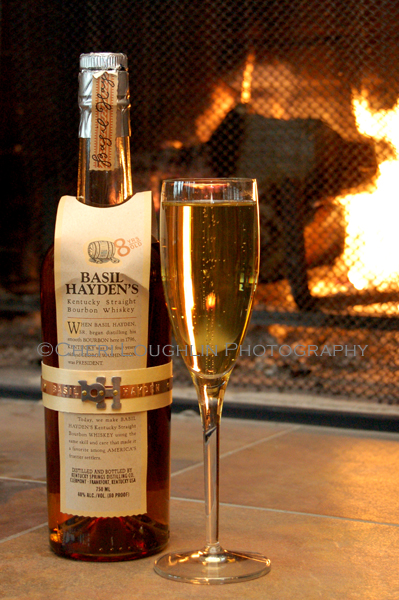 Basil Hayden's Fizz
1 ounce Basil Hayden's Bourbon
4 ounces Brut Champagne
Place Basil Hayden's bourbon in champagne flute. Top with chilled brut champagne or sparkling wine. Keep to approximately a 1:4 ratio.
Basil Hayden's Bourbon Tasting Notes
Aroma: Spice, tea, hint of peppermint
Taste: Spicy, peppery, honey, light-bodied, gentle bite, enriched by a hint of peppermint, it impresses with notes of pepper balanced by slight citrus overtones, and a spicy, warming finish
Finish: Dry, clean, brief
Basil Hayden's is an award-winning Super-Premium Bourbon. Aged eight years at a relatively mild 80 proof, it has a broad appeal and is equally enjoyable alone or in cocktails.
All content ©2008 Cheri Loughlin, The Intoxicologist. All Rights Reserved. Chat with Cheri @Intoxicologist on Twitter and facebook.com/Intoxicologist or str8upcocktails@gmail.com