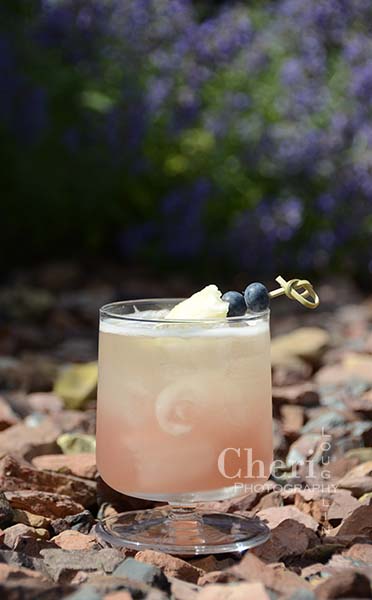 Make way for a drink your taste buds will love! Pineapple, blueberries and basil combine in a lovely, lightly fruited, refreshing drink that is perfect for warmer weather. This drink is definitely a favorite. The barely there hint of lemon sour balances nicely with the light herbal basil notes and lilting sweetness. This pineapple, blueberry and basil cocktail combination is a terrific alternative to garden variety summer cocktail favorites that call for mint and lime. Dare to be different. Sip delicious!
Pineapple Blueberry Basil Cocktail Recipe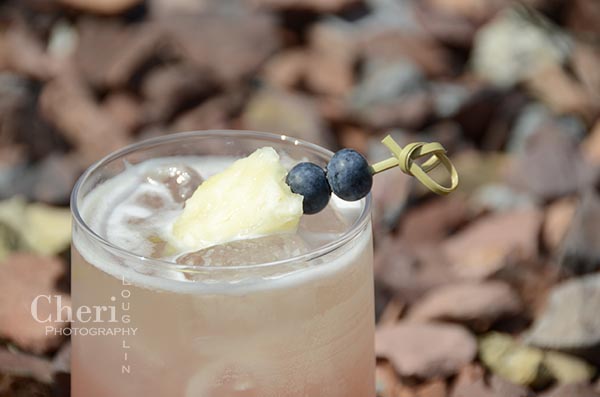 Pineapple Blueberry Basil Cocktail
1-1/2 ounce Shellback Silver Rum
1/2 ounce Lemon Juice
1/2 ounce Simple Syrup
6 Basil Leaves
4 Pineapple Cubes – 1-1/2 x 1-1/2 inch roughly
25 Fresh Blueberries
1 ounce Club Soda
Blueberries & Pineapple Garnish
Muddle basil leaves, pineapple and blueberry in a cocktail shaker. Add rum, lemon juice and simple syrup with ice. Shake vigorously to infuse basil flavor into the mixture. Strain into a large rocks glass over fresh ice. Garnish with skewered pineapple and blueberries.
The Pineapple Blueberry Basil cocktail is ideal for spring and summer, Fourth of July, Memorial Day and Easter. This drink recipe was commissioned by representatives of Shellback Rum as part of the Corporate Mixology program offered by Cheri Loughlin, The Intoxicologist. Find more recipes created by Cheri Loughlin for Shellback Rum on this site and at ShellbackRum.com and by following Shellback Rum on Facebook.
All content ©2014 Cheri Loughlin, The Intoxicologist. All Rights Reserved. Chat with Cheri @Intoxicologist on Twitter and facebook.com/Intoxicologist or str8upcocktails@gmail.com
Pineapple Blueberry Basil Cocktail