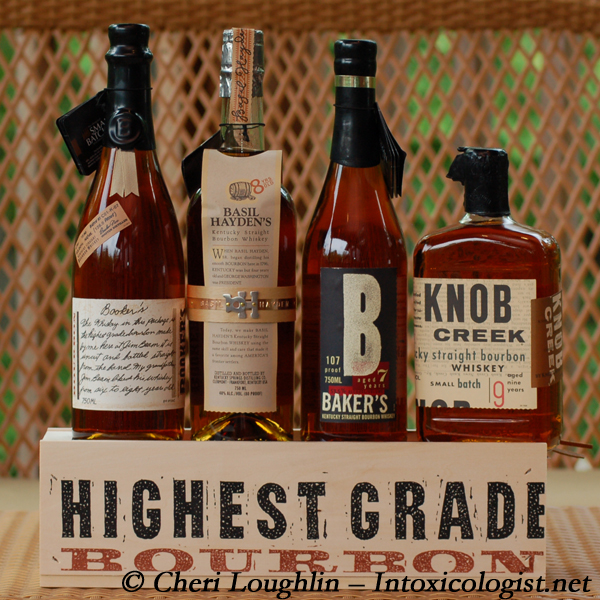 Still looking for that last minute small little something that will achieve the perfect finish for your cocktail enthusiast, liquor aficionado…liquid guru?  I have come across the precise answer to what you are looking for: Small batch bourbon.
Small category.  Complete flavor distinction.
Small batch refers to handcrafted bourbon created for the true connoisseur who appreciates the art and science of flawless blending of premium ingredients to provide unique aromas and flavor characteristics to tempt the most discriminating of palates.  These ultra-premium, small batch bourbons are made in limited quantities, aged from six to nine years in new, charred American white oak barrels and each retain the characteristics of pre-Prohibition whiskey.  Better yet, these small batch bourbons are readily available nationwide at a range of pricing that is affordable.  Tempted?
Knob Creek, Basil Hayden's, Bookers, Bakers
You have no doubt seen these bourbons on the shelf, but when mixed in with all the others it is difficult to distinguish one from another by anything other than bottle art alone.  Honestly I passed by them on the shelf many times without ever picking them up wondering what the flavor profiles might be and how they would compare.  However, one evening a friend offered to bring over some Bookers if I had some others to compare it to and the game was on.  After a quick trip to the liquor store we had a last minute tasting party going on at my house.
Knob Creek Bourbon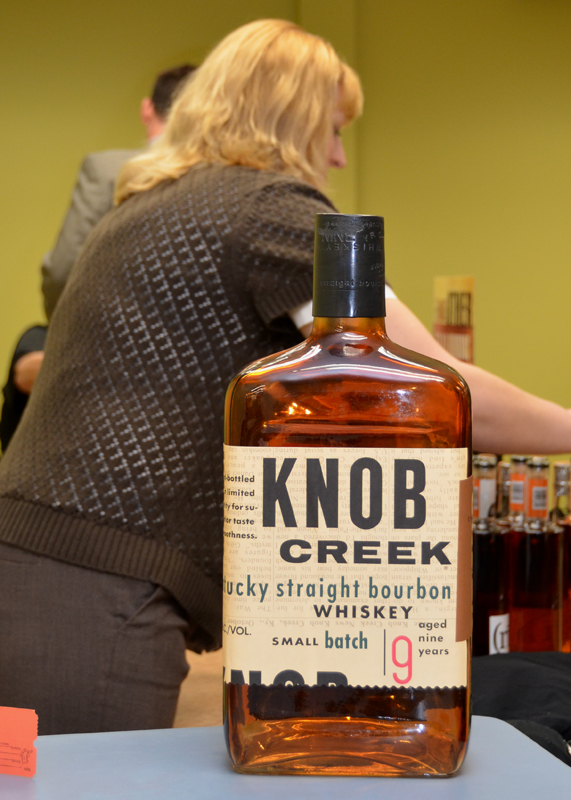 Knob Creek is a liquor cabinet staple.  This is the working man's friend as it is very affordable to consume without the need for special occasion.  At the end of the day, relax with this one.  Drink Knob Creek neat or on the rocks.  This one works great as the base of classic and contemporary cocktails.
Knob Creek's Official Tasting Notes
Aroma: Toasted nuts, grain oak
Taste: Rich, sweet, woody, full-bodied, almost fruity, it strikes the senses with a maple sugar aroma, distinctive sweetness and rich, full-bodied flavor
Finish: Long, rich and glowing
"Knob Creek remains my favorite. I like its nutty, fruity nose and how a vanilla-orange-caramel sweetness balances the rye spice." — The Kansas City Star, Anna Brockhoff, May 2007
Basil Hayden's Bourbon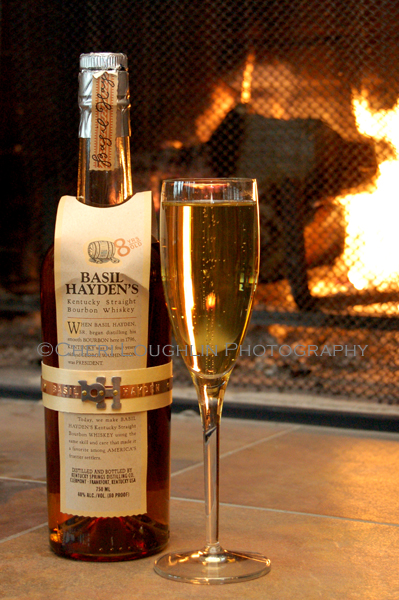 Basil Hayden's is the bridge between bourbon and American rye whiskey.  This bourbon will surprise and delight you as it is unlike bourbon you may be accustomed to.  Basil Hayden's has spicy kick with hints of peppermint while remaining gentle in its bite.  Enjoy this one neat, on the rocks or in cocktails.  There is one cocktail in particular, the Basil Bubbly, that I will feature for New Year's Eve cocktails coming soon.
Basil Hayden's Official Tasting Notes
Aroma: Spice, tea, hint of peppermint
Taste: Spicy, peppery, honey, light-bodied, gentle bite, enriched by a hint of peppermint, it impresses with notes of pepper balanced by slight citrus overtones, and a spicy, warming finish
Finish: Dry, clean, brief
Booker's Bourbon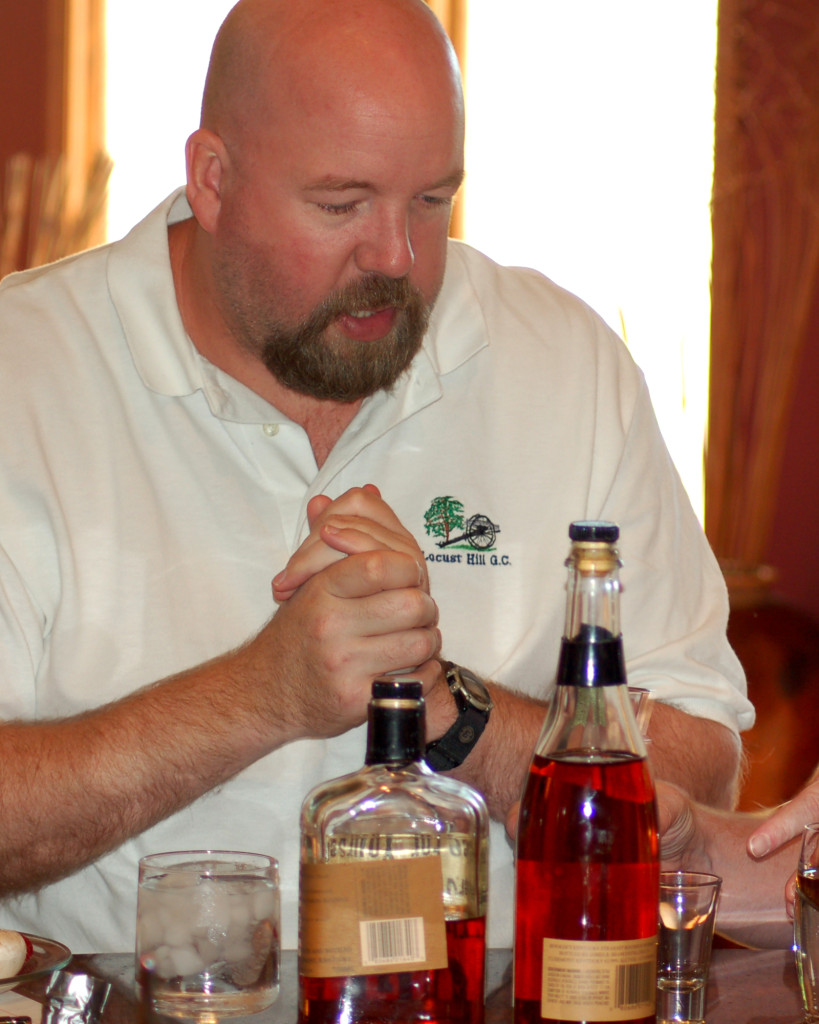 Booker's was a favorite at the impromptu tasting.  Booker's is one of the few uncut, unfiltered, straight from the barrel bourbons available on the market.  Since it is cask strength, there is need to cut it with spring water or ice (for some!).  This enables one to customize the flavor to one's own palate.  The flavor of Booker's is deeper and more intense than others in the small batch category, yet also seems to be in some ways an upgraded version of Basil Hayden's although, Booker's is its own bourbon and not a knock off of another.
Booker's was originally created as a holiday gift for Booker Noe's special holiday friends.  What an appropriate gift to give to your special spirit connoisseurs this holiday season.  Also, since it is uncut, full cask strength, Booker's is an exceptional value.
Booker's Official Tasting Notes
Proof: 121 to 127
Color: Deep, rich, smoky amber
Aroma: Big oak, vanilla, smoky charcoal
Taste: Intense, fruit, tannin, tobacco
Finish: Clean, long, intense
"The richest in this group is Booker's. The oaky, smoky, unfiltered bourbon has complexity, intensity, depth and a long finish." — Newsday, Peter M. Gianotti, May 2007
Bakers Bourbon
Bakers is the only one of the four small batch bourbons that did not make a showing at my little tasting party.  However this little gem makes a showing at www.smallbatch.com where I was able to get additional information on all of these small batch bourbons my friends and I sampled.
Bakers sounds like my type of flavor with its mix of vanilla and caramel.  The distinguishing characteristic of Bakers is its utilization of a special strain of jug yeast that provides this small batch bourbon with its consistently silky smooth texture.  Bakers is best served in a snifter with a splash of spring water.
Bakers Official Tasting Notes
Color: Warm amber, tawny, nut brown
Aroma: Fruit, vanilla, caramel
Taste: Toasted nuts, fruit, vanilla, silky texture
Finish: Sweet, smooth, medium-long
"Baker's has vanilla notes and a refined, silky style. The hue is nut-brown and the aroma has a caramel quality, a balanced, flavor-packed production." — Newsday, Peter M. Gianotti, May 2007
Bourbon Cocktail Recipes
Tom Doughty's Blitzen
co-owner of Fuel Restaurant in Kitsilano, Vancouver
1/2 ounce Starbuck's Coffee Liqueur
1/2 ounce Starbucks Cream Liqueur
1 ounce Knob Creek Bourbon
1/2 ounce Espresso
Nutmeg
Combine liquids in a cocktail shaker with ice. Shake until well chilled. Strain into a chilled martini glass. Garnish with fresh shaved nutmeg over the top.
Brooklyn Cocktail
2 ounces Knob Creek Bourbon
1 ounce Noilly Prat Dry Vermouth
1/2 teaspoon Luxardo Maraschino Liqueur
1/2 teaspoon Amaro Ciocciaro
Lemon Twist
Combine liquids in a mixing glass with ice. Stir until well chilled. Strain into a chilled cocktail glass. Garnish with a thin lemon twist over the top.
Clermont Smash
recipe by Tony Abou Ganim
1-1/2 ounce Knob Creek Bourbon
3/4 ounce Velvet Falernum
10-12 Spearmint Leaves
3 dashes Fee Brother's Peach Bitters
1-1/2 ounce Fresh Lemon Sour
Pineapple Spear & Mint Sprig
Muddle mint and Falernum in the bottom of a cocktail shaker. Add remaining liquid ingredients with ice. Shake until all ingredients are well integrated. Strain into a large rocks glass filled with crushed ice. Stir with the ice until frost begins to form on the glass. Garnish with pineapple spear and mint sprig.
All content ©2014 Cheri Loughlin, The Intoxicologist. All Rights Reserved. Chat with Cheri @Intoxicologist on Twitter and facebook.com/Intoxicologist or str8upcocktails@gmail.com
Small Batch Bourbon Holiday Surprises