February 22 is National Margarita Day. Since many have a love it or hate it view toward tequila as the hangover spirit it's time to move that misconception to the sideline and show a softer, smoother side to the rowdy character of the agave plant.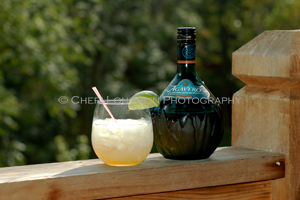 Agavero Tequila Liqueur is an exceptionally smooth, ultra-premium spirit created from a blend of 100% blue agave anejo and reposado tequilas. The essence of Damiana flower enriches the character adding substance to the flavor profile. Rather than an earthy bitterness or bite in the taste, Agavero is smooth and delicately rich on the palate. It is sweet, yet not syrupy. Agavero seems to be the perfect combination of tequila and agave nectar with the lilt of floral Damiana. 
Agavero is produced at los Camichines Distillery in the Jalisco region of Mexico.  Only the finest 100% blue agave anejo and reposado tequilas are chosen to complement the essence of Damiana. These elements are combined and hand blended for the highest quality and taste.  Agavero Tequila Liqueur is bottled at 64 proof. It may be enjoyed neat, on the rocks or in a variety of cocktails that are only limited by your imagination.
The notion that tequila is somehow harsher than other liquors or possibly only good for shots or margaritas is clearly not the case. Agavero allows a wide variety of creative thought process to unfold while still allowing the richness of the agave plant to shine through without harshness.
Cozumel Cosmo – created by Cheri Loughlin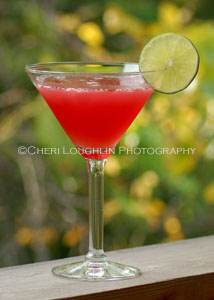 1 measure Agavero
2 measures Vodka
3/4 measure Pomegranate Juice
1/2 measure Lime Juice
1/2 measure Pomegranate Liqueur
Lime Wheel Garnish
Combine liquids in cocktail shaker with ice. Shake to blend and chill. Strain into chilled martini glass. Garnish with lime wheel.
Inspiration came from the Mexican Cosmo. Pomegranate Juice was put in place of Cranberry with Pomegranate Liqueur added. Imagine creating a tequila based Raspberry Lemon Drop using Limocello and Raspberry Liqueur!
Cortez' Golden Gift – created by Cheri Loughlin
1-1/4 measure Vanilla Liqueur
1-1/4 measure Half & Half
Build in a double old-fashioned glass over ice. Stir. Variation: 1 measure each Agavero and Vanilla Liqueur, 3/4 measure Tequila, 1-1/4 measure Half & Half.
The deep rich vanilla blends flawlessly with the delicate nature of Agavero. The use of Half & Half cuts the sweetness while keeping this a decadent dessert cocktail. An Espresso Vodka would also intertwine nicely within this mix. Adjust the ratios and make it your own.
Pineapple Pina – created by Cheri Loughlin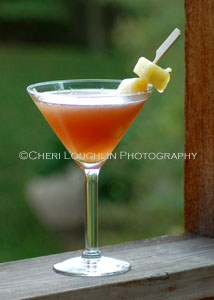 5 Pineapple Chunks
1/2 measure Cassis Liqueur
3/4 measure Lemon Juice
1 measure Agavero
1-1/2 measure Pineapple Vodka
3-4 Pineapple Chunks Garnish
Muddle pineapple, cassis and lemon juice in bottom of cocktail shaker. Add Agavero and vodka with ice. Shake to blend and chill. Strain into chilled martini glass. Garnish with skewered pineapple chunks.
Fresh is best. Pineapple and tequila work amazingly well together. So does watermelon!
Lover's Margarita – ala Agavero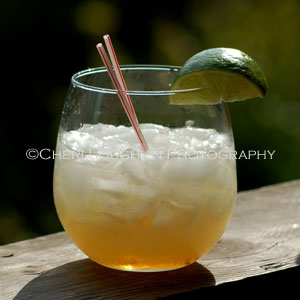 1 measure Agavero
1 measure Reposado Tequila
Splash Fresh Lime Juice
Salted Rim
Rim rocks glass with fresh lime and dip in salt if desired. Add fresh ice. Add Agavero and tequila. Stir. Double recipe and add two straws to share with a lover.
The Lover's Margarita is simply unbeatable. Agavero adds dimension to the margarita that would not be there with one layering of tequila alone. It also rounds out the edges for a smooth finish. 
This goes to show how adaptable Agavero Tequila is as a spirit. It is excellent as the foundation or companion piece in a wide range of mixed drinks. Tequila no longer needs to be considered the ruthless, untamed spirit designed for shots and margaritas alone.
Cheri Loughlin is a leading cocktail and photography resource for beverage companies, event planners, businesses and individuals. High resolution cocktail and beverage stock photography images are available in downloadable digital format in the newly redesigned Stock Photography Gallery at www.cheriloughlin.com. 
Twitter, Facebook, StumbleUpon – str8upcocktails @ gmail.com – ©2012 Cheri Loughlin-The Intoxicologist, All Rights Reserved. All opinions, reviews and spirits' coverage are the personal opinion and decision of Cheri Loughlin.
Agavero Inspires Cocktails beyond Shots & Margaritas