Cinco de Mayo rounds the corner soon.  The United States and other countries often adopt celebrations from other countries, merging customs and traditions with their own celebratory styles.  Cinco de Mayo, historically a celebration of Mexico's independence of France, is often confused for Mexican Independence Day commemorated as a result of the Mexican War of Independence.  Both celebrations aptly include tequila as base spirit for the widely popular Margarita and traditional Sangrita with chilled tequila shooter.  However with classic cocktails and contemporary styled martinis so popular, it pays to explore options beyond the obvious.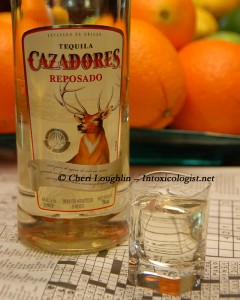 Tequila Cazadores Reposado
Aroma: Hints of sweetness, dry grass, slight caramel – but only briefly
Tasted Neat: Contains a lot of burn, fresh mown grass, slightly less sweetness in the taste from what the aroma suggests, tinge of milky cream
Finish lingers only faintly, possibly five to seven seconds at most.  Suggestion of butteriness that doesn't quite pan out in the full flavor.  Leaves me wanting for something more that just isn't there in the final taste.  Nice texture and character, but not my idea of the ideal sipping tequila.  Definitely see 100% de Agave Tequila Cazadores as the chilled shot tequila variety for those wanting a quick fix solution or margarita style tequila.  After a little recipe exploration and cocktail shaker play, Tequila Cazadores mixes well in cocktails one wouldn't necessarily expect.
Teaser – adapted by Cheri Loughlin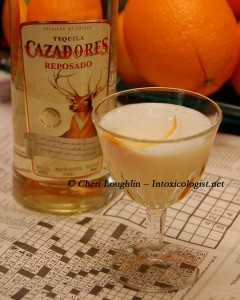 1 ounce Tequila Cazadores
1 ounce Cointreau
1 ounce Fresh Lime Juice
1 Egg White
1/3 ounce Licor 43
Orange Twist
Combine all liquid ingredients in a cocktail shaker.  Dry shake vigorously to blend egg white with mixture.  Add ice.  Shake thoroughly.  Strain into a chilled cocktail glass.  Garnish with fresh orange twist.
Many versions of the Teaser combine tequila and triple sec with orange and grapefruit juices on the rocks.  The version above is an adaptation from the Teaser cocktail found in A Pocket Guide to Cocktails.  My adapted version calls for Licor 43 to round out the edges, pull a little of the buttery feel that didn't quite come through in the first tasting of Cazadores, add a hint of vanilla to take away so much of the acidic tartness of the original Teaser recipe and include a wee burst of orange with specific Cointreau and orange zest.  The cocktail still contains a little tartness which was intended, but with mellow sweetness buried within.  Rather than Teaser it could now be referred to as a temptation.
Tequila Cazadores sample provided by brand representatives.
Twitter, Facebook, StumbleUpon – str8upcocktails @ gmail.com – ©2012 Cheri Loughlin-The Intoxicologist, All Rights Reserved. All opinions, reviews and spirits' coverage are the personal opinion and decision of Cheri Loughlin.
Tequila Cazadores: More Than Margaritas – It's a Cocktail Tease