The Grasshopper is an American classic cocktail. This after-dinner style classic cocktail is thought to have originated at Tujague's, a New Orleans bar in the French Quarter. The Grasshopper reached peak popularity in working class America during the 1950's and 1960's. It is characteristically sweet with both crème de menthe and crème de cacao inclusion. Enjoy the cool and refreshing nature of this classic drink recipe without any over the top alcohol abrasiveness. The Grasshopper is also a nice retro way to go green for St. Patrick's Day.
Grasshopper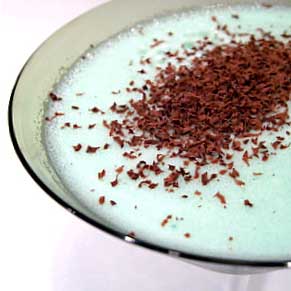 1 ounce Heavy Cream
1 ounce Crème de Cacao, white
1 ounce Crème de Menthe, green
Grated Chocolate Garnish
Combine liquids in cocktail shaker with ice. Shake to blend and chill. Strain into chilled martini glass. Garnish with chocolate shavings or chocolate cookie crumbs.
As is the case with most classic cocktails, the Grasshopper has many variations and offshoot cocktails. Bill at Cocktails at the Cove makes the Flying Grasshopper which contains vodka in place of heavy cream. A Brown Grasshopper includes coffee, which muddies the beautiful emerald green color, but adds another layer of depth to the characteristic minty flavor.
Who doesn't love a good blended drink? Add a scoop of mint or mint chocolate chip ice cream to the traditional Grasshopper recipe, place it all in a blender, mix until smooth, pour into a chilled glass and enjoy a Frozen Grasshopper. Take the Frozen Grasshopper a step further and make a Northern America favorite; Grasshopper Milkshake. Replace the heavy cream with 2 to 3 ounces of Half & Half, add a scoop or two of mint chocolate chip ice cream and the remaining crème de cacao and crème de menthe to a blender. Blend until smooth. Pour into a tall glass. Garnish with lightly crushed Oreo cookies. Lyuba from Will Cook for Smiles makes another variation of the Grasshopper Milkshake using frozen yogurt, vodka and coffee liqueur.
One more way to make your Grasshopper go the classic cocktail extra mile; homemade Crème de Menthe. Toni Dash of Boulder Locavore shows you step by step how to make your own Crème de Menthe for personal use and gifting. It's pinch me perfect for St. Patrick's Day, but color me ideal for Holiday gift giving.
[Post updated April 10, 2013]

All content ©2013 Cheri Loughlin, The Intoxicologist. All Rights Reserved. Chat with Cheri @Intoxicologist on Twitter and facebook.com/Intoxicologist or str8upcocktails@gmail.com
Classically Retro St. Patrick's Day Cocktail