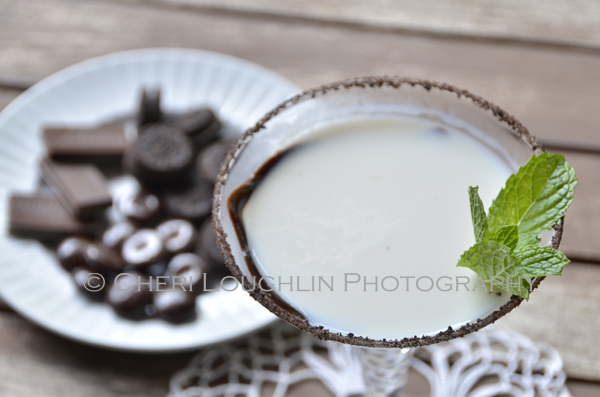 The Chocolate Mint Cookie Cocktail was inspired by National Crème de Menthe Day and a stroll down the cookie and candy aisle of my local grocery store. If it hadn't been for National Crème de Menthe Day, I might not have looked twice at the dusty unopened bottle sitting on the bottom of my bar shelf.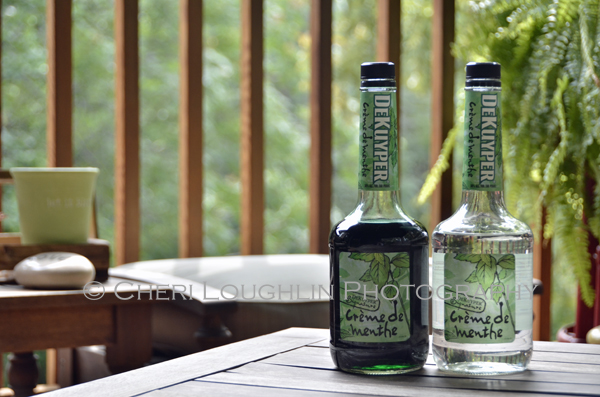 Crème de Menthe seems like one of those often overlooked liqueurs. The drinks it is most commonly known for places it in an older generation of cocktails. Gin struggled with the reputation of being the stodgy spirit of our parents and grandparents generation. Then crafty bartenders rescued gin from the dusty back bar and reinvented the Martini so to speak. And so, gin has been revitalized. There are gin cocktails on nearly every cocktail menu, often out numbering vodka drinks.
I don't see crème de menthe cocktails taking drink menus by storm. There probably won't be a huge run on crème de menthe at the liquor store. But it is definitely a flavor worth getting to know. We consume mint candies, chocolate chip mint cookies, chocolate mint ice cream, mint chocolate milk shakes and coffees with dashes of mint or peppermint stir sticks. Cold weather season lends itself toward minty concoctions of a celebratory nature.
Crème de Menthe pairs well with flavors of coffee, vanilla, chocolate, cocoa, whipped cream and ice cream to name a few for starters. Start mixing and shaking. Taste the possibilities!
Chocolate Mint Cookie Cocktail Recipe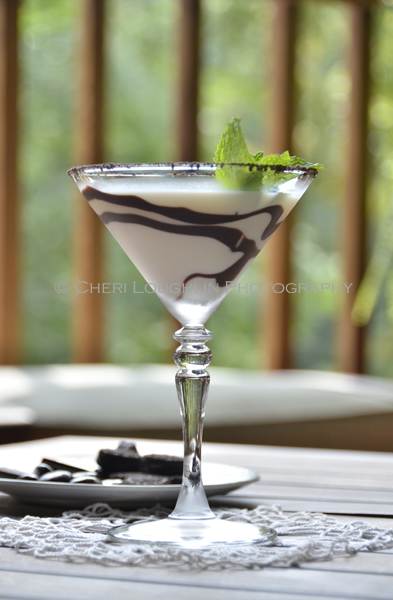 Chocolate Mint Cookie Cocktail – recipe by Mixologist Cheri Loughlin
1 ounce UV Cake Vodka
1/2 ounce Three Olives Chocolate Vodka
1/2 ounce DeKuyper Crème de Menthe*
1/2 ounce DeKuyper Clear Crème de Cacao
1-1/2 ounce Hiland Dairy Half and Half
Crushed Oreo Cookies
Hershey's Chocolate Syrup
Mint Sprig Garnish – optional
Lightly rim edge of glass with chocolate syrup. Dip rim in finely crushed Oreo cookies. Swirl thin line of chocolate syrup inside glass. Refrigerate until ready to use. Place remaining liquids in cocktail shaker with ice. Shake until well chilled and frothy. Strain into prepared glass. Garnish with mint sprig if desired.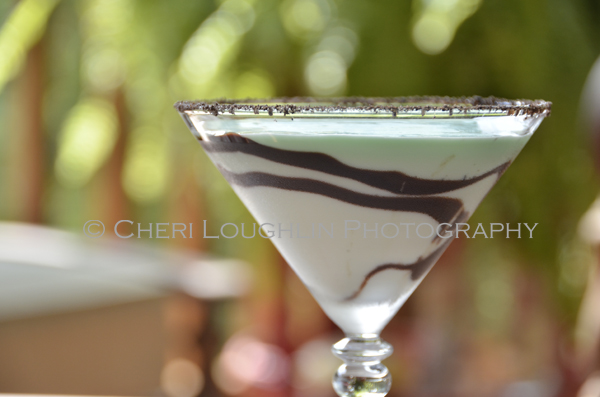 *Green or White Crème de Cacao is your choice. Green Crème de Cacao would be wonderful for St. Patrick's Day. Green or White would be perfect for the holidays depending upon if you like a White Christmas or festive Green holiday.
The Difference Between White and Green Crème de Menthe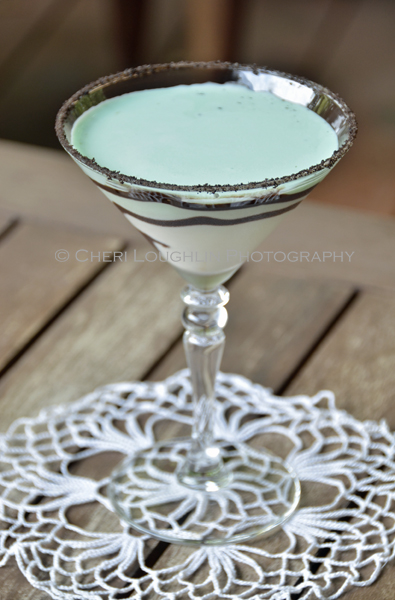 Crème de Menthe is most commonly used in classic cocktails such as the Grasshopper and Stinger. Crème de Menthe can be found in white (clear) or green variations. They both taste essentially the same and are interchangeable in recipes where color is not an issue. Green crème de menthe obtains its color from the mint leaves it is steeped in and possible addition of coloring. White crème de menthe has had the color removed. The same is true for the crème de cacao. White (clear) and dark crème de cacao each taste essentially the same and are interchangeable in recipes where color is not important.

All content ©2013 Cheri Loughlin, The Intoxicologist. All Rights Reserved. Chat with Cheri @Intoxicologist on Twitter and facebook.com/Intoxicologist or str8upcocktails@gmail.com
Crème de Menthe Chocolate Mint Cookie Cocktail