For those who prefer their margaritas on the lightly refreshing side: Tequila Cazadores Cucumberita.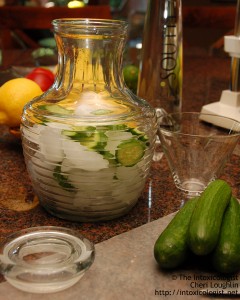 Cucumberita
1-1/2 parts Tequila Cazadores Reposado
1-1/2 parts Sour Mix 
3/4 parts Triple Sec
1/4 cup Cucumber – sliced
Splash Lime Cordial
Splash Lemon Juice
Salt
Ice
Cucumber Wheel Garnish
Rim margarita glass with lime, dip in salt and set aside. Place remaining ingredients in blender with 8 to 12 ounces of ice. Blend until completely smooth. Pour into prepared margarita glass. Garnish with cucumber wheel.
Recipe provided by Tequila Cazadores representatives
All content ©2013 Cheri Loughlin, The Intoxicologist. All Rights Reserved. Chat with Cheri @Intoxicologist on Twitter and facebook.com/Intoxicologist or str8upcocktails@gmail.com