Gran Centenario did not cut corners when infusing their Rosangel. This delightful blend uses the Gran Centenario Reposado as starting base before the infusion process begins. Take a look at hibiscus flowers sometime. They are gentle, delicate, flowing even. This is the feel one gets with the first sip of Gran Centenario Rosangel Tequila. Rather than yielding a highly perfumed floral spirit, Rosangel lilts on the tongue with a bit of fruit, soft floral and the slightest touch of something deeper; the Reposado it is built upon.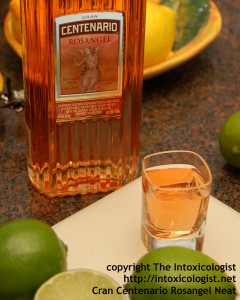 The Gran Centenario Rosangel Tequila is the first flavored tequila I believe I may have ever tasted with the exception of Tabasco Tequila. Each is positioned at opposite ends of the spectrum regarding taste and character. The comparison is pointless and only made in the spirit that they both fall in the flavored tequila category. Tabasco Tequila is built for fun, revving up the night and stoking the fire of frivolity. Gran Centenario Rosangel Tequila takes the infusion process to a new height of art, complexity and desirability. Rosangel is not built for speed, shooters or tearing down the house. It is a slow dance on the tongue that strokes the senses gracefully as it develops further to stir deeply with the zest of its foundation spirit.
Tread lightly when creating with the Gran Centenario Rosangel Tequila. Due to the lightness of Rosangel it is quite easy to overwhelm the flavor of the hibiscus with strong flavored herbs or by using too many heavily sweetened liqueurs. Fresh fruits and herbs in small quantity with gentle or more subtle flavors may work better than more abrupt flavors.
Angel Eyes– created by Jennifer Queen
1-1/2 ounce Gran Centenario Rosangel Tequila
1/2 ounce Crème de Violet
1/2 ounce Agave Nectar
4-5 Muddled Blackberries
Squeeze of Lemon
Rose Champagne
Mint Sprig Garnish
Muddle blackberries, lemon juice and agave nectar in cocktail shaker. Add tequila, crème de violet with ice. Shake to blend and chill. Fine strain into champagne flute. Top with champagne. Garnish with mint sprig.
Mama Cita– created by Jane Damskey
1-1/2 ounce Gran Centenario Rosangel Tequila
3 ounces Mama Cita Mix
2 ounces Cava
Lemon, Lime & Orange Slice Garnish
Build over ice in tall wine glass. Garnish with slices of squeezed lemon, lime and orange.
Mama Cita Mix – (batch)
4 Parts Hibiscus Simple Syrup (32 ounces)
1 Part Orange Juice Concentrate (8 ounces)
1 Part Pineapple Juice Concentrate (8 ounces)
3 Parts Fresh Lemon Juice (24 ounces)
Mix in large pitcher. Seal. Keep refrigerated.
Cheri Loughlin is a leading cocktail and photography resource for beverage companies, event planners, businesses and individuals. High resolution cocktail and beverage stock photography images are available in downloadable digital format in the newly redesigned Stock Photography Gallery at www.cheriloughlin.com.
Twitter, Facebook, StumbleUpon – str8upcocktails @ gmail.com – ©2012 Cheri Loughlin-The Intoxicologist, All Rights Reserved. All opinions, reviews and spirits' coverage are the personal opinion and decision of Cheri Loughlin.
Gran Centenario Rosangel Tequila: The Slow Dance