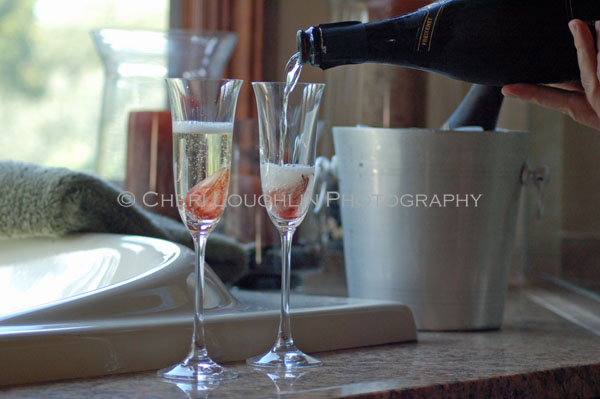 August 4 is said to be the day Dom Perignon invented champagne back in 1693.  In fact this bit of bubbly trivia stirs up quite a bit of discussion regarding the fact that naturally occurring bubbles were seen as a problem at the time to whether or not his famous quote of 'drinking with the stars' is fictional or factual No matter really.  What stands out the most is the impact champagne has had on cocktail culture.
After conducting an informal survey on Twitter as to favorite cocktails that include champagne, the overwhelming response named the French 75 as most preferred.  The French 75 traditionally contains Gin as the base spirit; however my preference for this particular classic cocktail recipe is to substitute Hennessy Cognac for Gin.  Another reader loving the French 75 chooses to use a mix of Gin and St-Germain in his modernized classic recipe.
The Ritz Cocktail
The Ritz also came up as a favorite.  Dale DeGroff writes about this cocktail recipe in his book The Essential Cocktail.  A few tweaks to the "Fizz" make the Ritz into the Cocktail.  Many main stream cocktails on the bar scene contain too much sweetness, but the Ritz Cocktail's addition of brut champagne takes the syrupy sweet edge off of the liqueurs and cognac combination.  Be sure to flame the orange peel ala Dale DeGroff or at minimum zest the peel over the cocktail so that all the essential oils remain within the cocktail for the most flavor.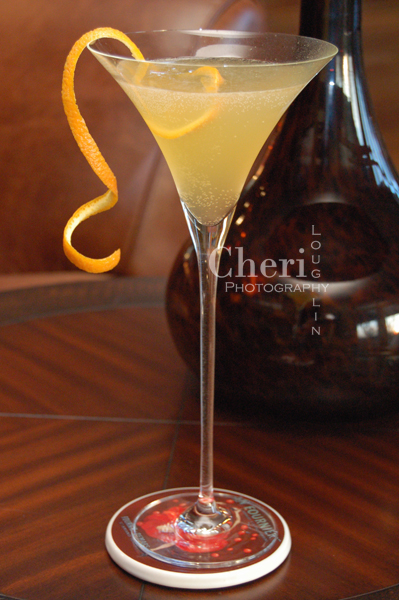 Ritz Cocktail
3/4 ounce Cognac
1/2 ounce Premium Orange Liqueur
1/2 ounce Luxardo Maraschino Liqueur
1/2 ounce Freshly Squeezed Lemon Juice
Champagne (approximately 3 ounces)
Flamed Orange Peel
Combine cognac, Cointreau, Luxardo and lemon juice in a mixing glass with ice.  Shake or stir for 15 to 20 seconds.  Strain into a large chilled cocktail glass.  Top off with champagne.  Garnish with orange peel.
Barefoot Brunch Recipe
The Mimosa, also recognized as a Buck's Fizz, made the list as traditional favorite champagne cocktail.  This classic seems to be a Sunday brunch staple, but the Mimosa is delicious anytime.  It is also one of the lower calorie cocktails with no added liqueurs.  Simply put a Mimosa contains chilled orange juice and champagne.  However, tweak this classic cocktail a bit and it takes on another dimension.
Barefoot Brunch – recipe by Cheri Loughlin, The Intoxicologist
Inspired by the classic Mimosa
1/2 ounce Mango Syrup (chilled)
1-1/2 ounce Mango Puree or Orange Juice (chilled)
3-1/2 ounces Brut Champagne
Pour syrup and puree/juice into a champagne flute.  Carefully pour Champagne over the top.  *Mango Syrup – 1 part water, 1 part sugar, several mango slices.  Place water and sugar in a saucepan and bring to a simmer.  Carefully add in mango slices.  Allow mixture to simmer for several minutes, stirring continuously.  Remove from heat.  Allow to cool.  Strain out Mango.  Syrup will keep for approximately two weeks in a sealed container in the refrigerator.
In this instance the bubbly on hand happened to be Barefoot Bubbly Brut Cuvee.  Dry bubbly topping off sweeter cocktails enhances the flavor by adding balance to the drink rather than bringing in more syrupiness.  Mango gives this classic great flavor twist, energizing the cocktail.  Rather than the same Sunday brunch special, vary it a little and play with flavored syrups and different juices.
D'Artagnan Cocktail Recipe
Mojitos made the list as favorite cocktails with champagne topper rather than club soda.  The recent 40th anniversary of Neil Armstrong's walk on the moon brought up memories of the champagne topped cocktail, The Moonwalk.  There was also mention of a cocktail in need of research and a must try for me.  D'Artagnan sounds delicious.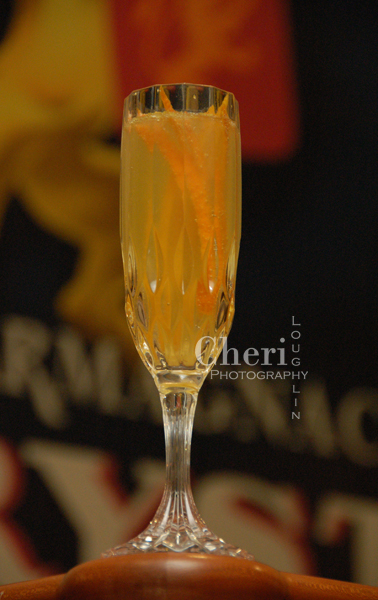 D'Artagnan
1 teaspoon Armagnac
1 teaspoon Grand Marnier
3 teaspoons Orange Juice
1/2 teaspoon Simple Syrup
3 ounces Champagne
Orange Peel Strips Garnish
Combine Armagnac, Grand Marnier, chilled orange juice and simple syrup in a champagne flute.  Add champagne.  Carefully slip orange peel strips down the length of the champagne flute.
All content ©2009 Cheri Loughlin, The Intoxicologist. All Rights Reserved. Chat with Cheri @Intoxicologist on Twitter and facebook.com/Intoxicologist or str8upcocktails@gmail.com
Birth of Champagne Cause for Cocktail Celebration