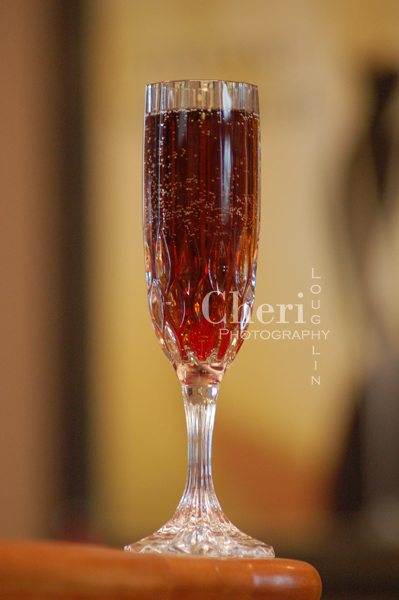 Champagne is one of the ultimate celebratory drinks. It is bubbly, tickles the nose and just feels festive. It's perfect! So why mess with perfection? Because we can! There are also many opportunities to host celebratory parties and events in the months ahead. Halloween, Thanksgiving and Christmas all offer numerous occasions to bust out the bubbly. It's time to start planning ahead for those brunches, lunches and parties that wake the dead.
The Black Pearl champagne cocktail is lush tasting with dark, rich color. It is easy to make with three liquid ingredients and simple maraschino cherry garnish. Make the Black Pearl even easier to serve to a group by making the cognac and coffee liqueur base ahead of time so it is ready to serve with one pour. This is a perfect drink for pirate themed Halloween parties. You could also include the Pirate's Punch, Scarlet Pirate, South Pacific drinks for on the rocks sipping and the Wench's Sister shot for pure fun.
Black Pearl Champagne Recipe
Black Pearl
1 ounce Cognac
1 ounce Coffee Liqueur
3 ounces Brut Champagne
Maraschino Cherry
Place a maraschino cherry in the bottom of a champagne flute. Combine cognac and coffee liqueur in a cocktail shaker with ice. Shake until well chilled. Strain into the champagne flute over the maraschino cherry. Top with chilled brut champagne.
Make this ahead of time in batch quantity with the following directions:
1 – 750ml Bottle Brut Champagne – chilled
Combine the following in a glass bottle with lid:
9 ounces Cognac
9 ounces Coffee Liqueur
4-1/2 ounces Distilled Water*
Refrigerate until well chilled and ready to serve. *Addition of distilled water takes the place of shaking individual servings with ice. This small amount of water compensates for the dilution factor or shaking with ice.
When ready to serve add the following to each glass:
1 Maraschino Cherry
2-1/2 ounces Cognac & Coffee Liqueur mixture
2-3/4 to 3 ounces Brut Champagne
All content ©2014 Cheri Loughlin, The Intoxicologist. All Rights Reserved. Chat with Cheri @Intoxicologist on Twitter and facebook.com/Intoxicologist or str8upcocktails@gmail.com
Black Pearl Champagne Cocktail